Things You'll Need
White vinegar or bleach

Water

Cleaning rags

Dish soap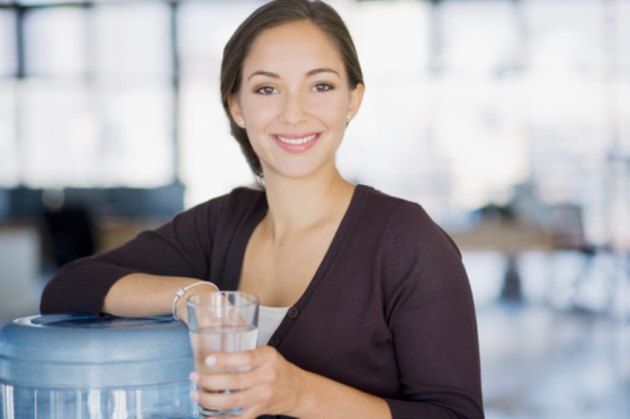 Because of its size, cleaning a five gallon water cooler may seem like a daunting task; however, the cleaning process actually does not require much work. Since you drink the water that comes out of this unit, regularly cleaning and sanitizing the cooler will prevent bacteria from growing inside. You can either use a chemical disinfectant or an all-natural solution to clean your water cooler.
Step 1
Remove the five gallon jug when it is almost empty, and pour out any remaining water.
Step 2
Fill the jug with about 1 gallon of hot water, 1 tsp. of dish soap and 2 tbsp. of white vinegar or bleach. Both vinegar and bleach disinfect equally well. The vinegar solution just provides a more natural disinfectant when compared to chemically-based bleach.
Step 3
Place your hand over the lip of the bottle and shake the jug for about 10 seconds. Place the bottle on the cooler unit and run it out through the faucet taps to disinfect the entire cooler.
Step 4
Refill the jug with 1 gallon hot water. Shake it for about 30 seconds to get rid of soap and disinfectant residue.
Step 5
Refill the jug with another gallon of hot water. Then run the water through the cooler unit again to clear out the reservoir and faucet openings.
Step 6
Moisten a cleaning rag with soapy water and add a drop of either bleach or vinegar to the rag. Wipe it over the lip of the bottle. Also wipe the faucet handles and openings.
---
Mel Frank is a professional freelance writer with over 15 years of writing experience. She has completed a wide variety of writing assignments for a number of publications that include CNN and various websites. Frank received a Bachelor of Fine Arts from a prestigious university in Pennsylvania.