Things You'll Need
Spray bottle

Water

White vinegar

Dish soap

Dish rag

Dish towel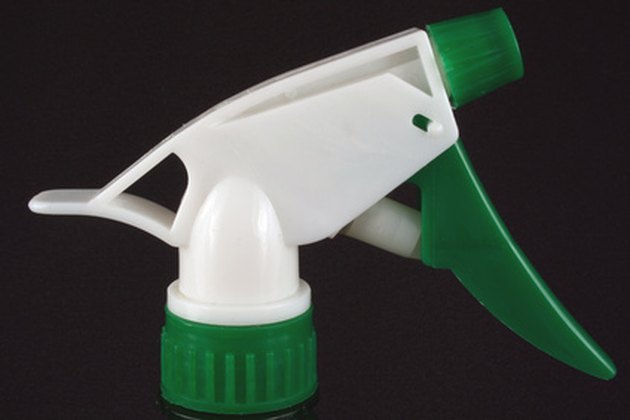 Laminate countertops are affordable and found in many homes. The laminate is durable and replicates the look of more expensive materials, such as wood, giving the appearance of the wood without the expensive price tag. As with any type of countertop, the residue from foods and other elements can quickly accumulate on laminate, leaving you in need of an effective cleaning routine. You do have the option of purchasing a commercial cleaning solution, but often these contain harsh chemicals that should not be used in areas like the countertops that are constantly in contact with food. By making your own cleaning solution and keeping it on hand in the home, you can keep the countertops clean and free of sticky buildup without use of harsh chemicals.
Step 1
Mix equal parts of water and vinegar in a spray bottle, and add in 1 tsp. dish soap.
Step 2
Spray the mixture over your countertops and wipe off with a damp dish cloth. The vinegar is a natural disinfectant that kills bacteria and cuts through the stickiness, while the dish soap assists in breaking up sticky buildup.
Step 3
Rinse your dish cloth, wring out and wipe over the countertops once more to remove any remaining cleaning solution.
Step 4
Dry the countertops with a dish towel so the laminate does not accumulate water spots or streaks.
Step 5
Store the spray bottle out of reach of pets and children, as this is a mild cleaner but the dish soap could be harmful if ingested.
Step 6
Use the cleaning solution weekly or as needed to keep the laminate countertops clean and free of sticky residue.
---
Mel Frank is a professional freelance writer with over 15 years of writing experience. She has completed a wide variety of writing assignments for a number of publications that include CNN and various websites. Frank received a Bachelor of Fine Arts from a prestigious university in Pennsylvania.