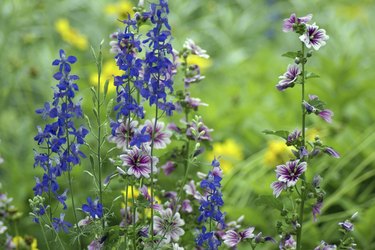 The best flowers to grow in Virginia include a combination of native and non-native species, suited to Virginia's climate. Much of the state lies in U.S. Department of Agriculture plant hardiness zones 7a and 7b, with parts of western Virginia in zones 6a and 6b. Some coastal areas and the Delmarva peninsula are in zone 8a, while a small area in the far north central part of the state lies in zones 5a and 5b. While most annuals will thrive throughout Virginia, successful flower gardens generally rely more heavily on reliable, climate-appropriate perennials, which return every year.
Spring Flowers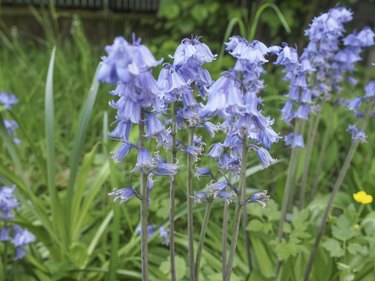 Virginia bluebells (Mertensia virginica, USDA zones 3 through 8) will thrive in all of Virginia's climate zones. A hardy native plant, bluebells bloom in early spring, growing 1.5 to 2 feet tall and bearing abundant blue, bell-shaped flowers. The plants like moist, shady sites and go dormant by summer, making room for other species. Native to the eastern U.S. and hardy in all of Virginia's zones, fringed bleeding heart (Dicentra eximia, USDA zones 3 through 9) blooms a little later than Virginia bluebells. The plants feature dissected gray-green foliage and rose-purple flowers.
Late Spring and Summer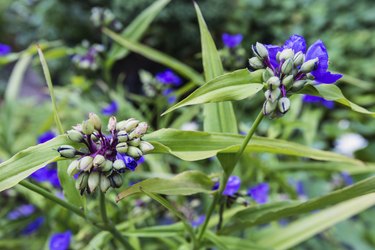 Flowering from mid-spring through early summer, spiderwort (Tradescantia virginiana, USDA zones 3 through 9) is hardy throughout Virginia. Spiderwort loves light shade to full sun, producing purple, three-petaled flowers. Hybrid varieties bloom in white, pink, shades of purple and blue-purple. Shearing after bloom can stimulate rebloom later in summer or early fall. Daylilies (Hemerocallis spp.) are another Virginia stalwart. Generally hardy in USDA zones 3 through 10, daylilies generally begin blooming in late June. By choosing a mix of early, mid and late season varieties, plus rebloomers, gardeners can prolong the daylily show through fall.
Fall Flowers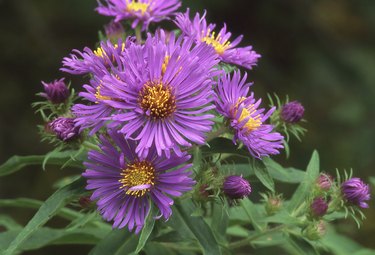 New England asters (Aster novae-angliae or Symphyotrichum novae-angliae, USDA zones 4 through 8) thrive as well in Virginia as they do in northern climates. Blooming in purple, blue-purple and pink, they are back-of-the-border plants that thrive in the sunshine. The best complement for asters is any one of the many species and varieties of goldenrod (Solidago spp.), such as showy goldenrod (Solidago speciosa), hardy in USDA zones 3 through 8. A sun lover that can also withstand drought and poor soil, goldenrod blooms in late summer and early fall, bearing plumes of tiny yellow-gold flowers.
Flowering Shrubs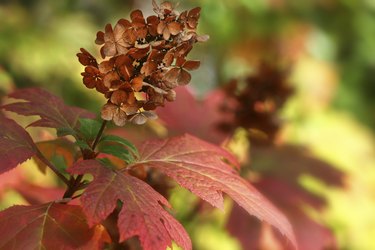 Flowering shrubs appropriate to the Virginia climate can also provide an abundance of blooms. "Longwood Blue" blue mist shrub (Caryopteris x clandonensis "Longwood Blue," USDA zones 5 through 9) grows 2 to 3 feet tall and bears clusters of blue flowers on the ends of the branches in late summer. At 3 to 4 feet tall, "Pee Wee" oak leaf hydrangea (Hydrangea quercifolia "Pee Wee," USDA zones 5 through 9) is hardy throughout Virginia, providing cone-shaped white flowerheads in early summer.