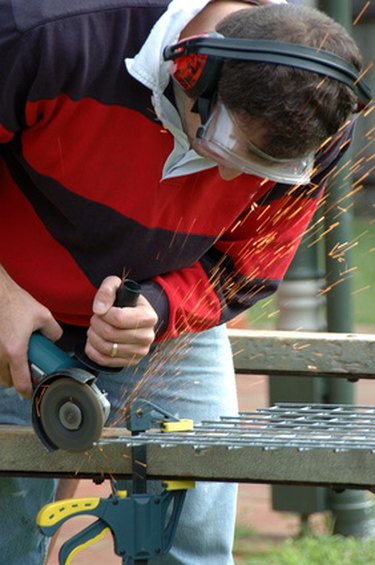 The Makita company manufacturers a popular handheld grinder. By using different styles of discs, the grinder can be used as a grinder, cutter, sander or polisher. Changing the discs on the grinder is a relatively basic process. The grinder comes with a lock nut wrench that is used to loosen or tighten the lock nut that holds the grinding disc in place. A shaft lock button located on the top of the grinder is depressed to prevent the shaft from spinning during the process of removing and replacing the discs.
Removing the Disc
Step 1
With the grinder unplugged, turn the grinder upside down so that you are looking at the grinding wheel and the locking apparatus.
Step 2
Depress the shaft lock button located on the top of the grinder. Because the grinder is being held upside down, this button will be facing down towards the ground.
Step 3
Rotate the disc until the shaft locks in place and no longer spins.
Step 4
Place the lock not wrench onto the lock nut holding the disc in place. Turn the lock nut wrench counter-clockwise to loosen the lock nut.
Step 5
Remove the lock nut, the old disc and the inner flange from the grinder.
Attaching a New Disc
Step 1
Nest the inner flange against the underside of the new disc. Set the inner flange and disc onto the grinder's shaft.
Step 2
Place the lock nut on the grinder's shaft and hand-tighten it.
Step 3
Depress the shaft lock button and spin the shaft until it locks into place.
Step 4
Use your lock nut wrench to tighten the lock nut onto the grinder shaft and disc. Turn the lock nut wrench clockwise until the disc is secured.
---
Robert Howard has been writing professionally since 2004 and writes a weekly column for the "Synthesis," a Chico, Calif.-based newspaper. He maintains a blog and has published articles and works of fiction in a variety of different print and online magazines. Howard holds a Bachelor of Arts in visual arts from the University of California, San Diego.