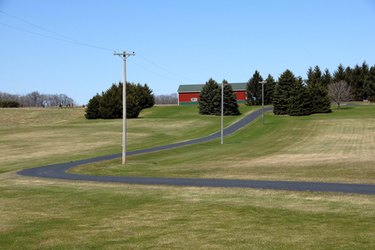 The process involved in bringing electrical service from the road to your rural home can vary widely in terms of complication and expense. However, the cost and complexity of connecting to the electrical grid is typically lower than that of wiring your home for solar electricity or for other less common sources of alternative energy. The most important thing to remember is to consult your utility company frequently during the connection process--they will ensure that everything is done safely and correctly.
Work with Your Electrical Company
Step 1
Contact your utility company and provide them with the details of your installation, such as your home's distance from the road, the amperage you need and the location of your property.
Step 2
Obtain a cost estimate to help you decide if you want overhead or underground lines. Underground lines are usually more expensive. Some utility companies install overhead lines for free within a certain distance from the existing lines.
Step 3
Arrange to meet your utility representative at your property for the site evaluation. This helps fill in the details of the installation and usually initiates the actual process of bringing electricity to your home.
Work with Your Electrician
Step 1
Hire an electrician to bring the wiring from the utility's service point to your home. The service point is wherever your electric meter is installed--it may be on your home or at a meter pedestal near the road.
Step 2
Contact your local inspector to confirm that the electrician properly connected to the service point. This inspection may be required before the utility will energize your service.
Step 3
Draw up plans for the wiring inside the house and give them to your electrician. Make sure to consult local building codes, which often contain extensive specifications regarding outlets, lights, exhaust fans, smoke detectors and other electrical equipment.