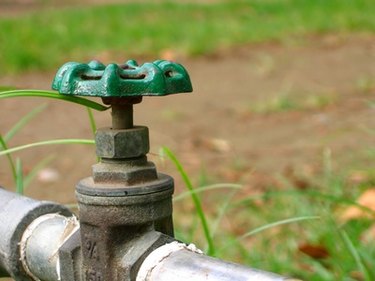 If you want a bulkier handle for an outdoor faucet, or would like to replace a broken plastic handle with a more durable metal one, you'll be glad to know the job doesn't require a plumber. Just remember to take a few seconds to inspect what's beneath the handle before replacing it, to make sure everything's working as it should.
Step 1
Turn off the water supply at the shutoff valve. Open the valve outside by turning the faucet handle. Drain any water in the supply line before working.
Step 2
Remove the faucet handle. This will involve removing whatever fastener is holding it in place. Use a screwdriver, wrench or both to remove the screw or nut.
Step 3
Wiggle the handle while pulling straight up to remove the old faucet handle from the stem, according to the Bob Vila website.
Step 4
Clean the exposed area with a small, stiff-bristled brush to remove any gunk or corrosion.
Step 5
Set the new handle in place and replace the fastener. If the new hardware fits the old stem, go ahead and use it. Make sure it's tight before turning on the water.
Step 6
Turn on the water supply and test the new handle.