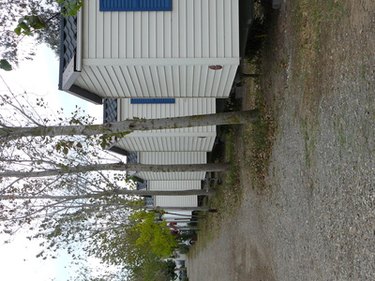 Setting up a mobile home is not as easy as it may seem. There are many tasks to complete to ensure your home is set up safely. If you have recently purchased a new mobile home, the dealer will generally handle all set up and installation for you as part of the purchase price. If you purchased a used mobile home that needs to be moved to a new location or you simply need to move your current home, it is possible to do but it is not simple.
Installation
Step 1
Obtain any necessary permits for moving and setting up a mobile home in your area. Check with your local building inspector or mobile home park manager for information on what is required. In many areas, you will need to have the installation inspected upon completion.
Step 2
Prepare the site for set-up. This includes making sure the ground is level, installing any electrical, gas, water and sewer lines that may be needed. If your site is not already equipped with these items, you will need to have a licensed contractor install the services before moving forward.
Step 3
Build footers for foundation if they are not already in place. Check your local code to ensure your foundation meets the requirements of your area. Some areas require pier foundations. Other areas require underpinning walls to create a solid foundation.
Step 4
Move the mobile home into place. If you have to navigate any curbs, be sure to create a ramp that will support the weight of the home. Mobile homes can have their frames damaged by going over curbs.
Step 5
Secure mobile home with hydraulic jacks to support it while you build the foundation. Do not attempt to use mechanical jacks; they are not as sturdy and can collapse under the weight. All jacks must be shored to ensure safety while building foundation.
Step 6
Remove axles and hitch. These items can be recycled or saved, depending if you will be moving the home again.
Step 7
Construct foundation. Regardless of whether your will need an underpinning wall or piers only, it is advisable to build piers under any area of the mobile home that will bear a significant weight load. Piers can easily be constructed on-site and then moved into place. This makes it easier to make sure all piers are level and plumb.
Step 8
Lower the home from the jacks onto piers. Do not remove jacks as they may be necessary in leveling the home.
Step 9
Check the interior floor of the home to ensure the floor is level. In any areas where the floor is not level, use the jack to ease the load on the foundation pier. Place shims between pier and undercarriage of the mobile home to correct the issue.