Things You'll Need
Soapy water

Soapy cloth

Damp cloth

Measuring spoons

Measuring cups

Pot holder

Popcorn

Oil

Butter

Salt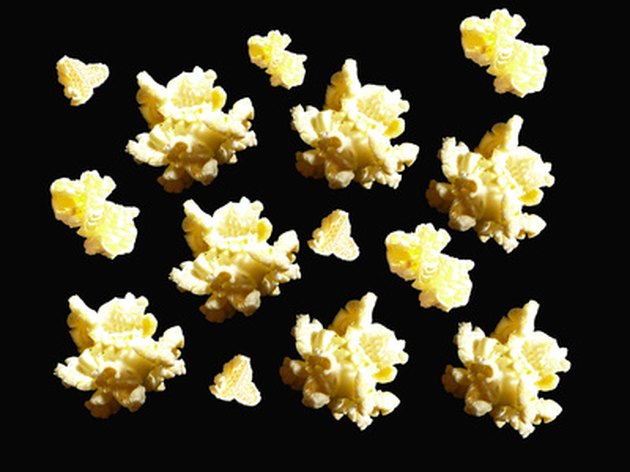 The Stir Crazy Corn Popper is a popcorn maker manufactured by West Bend. It comes in a 6- and 8-quart model with a butter-melting well and a top that doubles as a popcorn bowl. The Stir Crazy Corn Popper makes popcorn using only a small amount of oil which keeps the popcorn tasting fresh and light. The butter-melting well makes it easy to season the popcorn.
Before First Time Use
Step 1
Wash the popcorn popper top and plastic cover in warm soapy water before using the Stir Crazy Corn Popper for the first time.
Step 2
Remove the rod from the center base by unscrewing the center knob counter-clockwise. Wipe the rod and non-stick base with a soapy cloth and then with a damp cloth. Dry off the rod and base.
Step 3
Put the rod back into the center base, lining it up with the appropriate groove in the base. Screw on the center knob clockwise.
General Use Instructions
Step 1
For 2 quarts of popcorn, add 1 tbsp. of oil and 1/3 cup of corn to the popper base. Spread the oil and corn evenly in the base. Add 1 tbsp. of butter to the butter-melting well. Double, triple or quadruple the amount of corn to be popped by increasing the ingredients by the appropriate measures, accordingly.
Step 2
Put the cover on the popper base, matching its handles to the popper base handles.
Step 3
Plug in the Stir Crazy corn popper cord into its base and a wall outlet. The stirring rod will rotate and pop the corn as long as the popper is plugged in. It should take about 4 to 6 minutes to pop all of the corn, depending on the amount being popped.
Step 4
Unplug the Stir Crazy popper from the wall outlet when the popcorn is finished popping. Unplug the cord from the hot base of the popper using a pot holder.
Step 5
Put the plastic cap on the butter-melting well and flip the popper over by the handles. The popcorn will fall into the top which can then be used as a bowl. Pull the base away from the top and add salt to the popcorn, if desired.
Warning
The Stir Crazy popper does not have an automatic shut off. You must watch the popcorn and unplug the popper to ensure that the popcorn does not burn.
Do not submerge the popper base in water.
---
Mary McNally has been writing and editing for over 13 years, including publications at Cornell University Press, Larson Publications and College Athletic Magazines. McNally also wrote and edited career and computer materials for Stanford University and Ithaca College. She holds a master's degree in career development from John F. Kennedy University and a bachelor's degree from Cornell University in counseling.