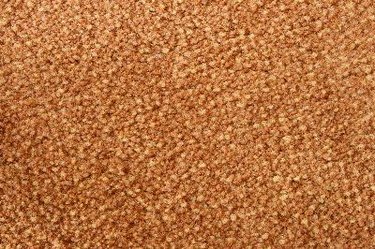 Owning a Bissell carpet cleaner allows you to conveniently shampoo your carpet whenever necessary to remove spills or pet stains, but that convenience is lost when your machine malfunctions and refuses to put out soap. If you encounter this frustrating issue, take a deep breath and try troubleshooting your carpet cleaner before you take it in for repairs. Bissell provides a list of common problems in the user guide of each of their products and many issues are easily fixed in minutes so you can get your cleaning done quickly and get back to activities you really enjoy.
Step 1
Turn your Bissell carpet cleaner off as soon as you notice that the soap solution is not spraying.
Step 2
Remove the water tank from your Bissell carpet cleaner. If the water tank was installed improperly, the cleaning solution will not spray.
Step 3
Check the water tank to make sure that it is full. You should fill the tank with clean water to the fill line before adding the solution prior to each use of your Bissell carpet cleaner.
Step 4
Tilt the carpet cleaner backwards and look at the bottom of the cleaner. Remove any hair, carpet fibers or other debris from the filter at the bottom of the carpet cleaner with your hand.
Step 5
Stand the machine upright and replace the water tank. The tank should fit snugly into place and not wiggle or wobble on the Bissell carpet cleaner. Depending on which model of carpet cleaner you have, you may need to move the handle of the tank back or down to lock it in place.
Step 6
Turn your Bissell carpet cleaner back on and let it stand for one minute.
Step 7
Press and release the trigger of the Bissell carpet cleaner once. This will prime the pump and you can begin using your Bissell carpet cleaner immediately.