If you have a creek running through your backyard, you can use landscaping to make it one of the central features of the yard. When choosing plants to position around the creek, consider first how much sunlight the creek gets each day and choose plants accordingly. If you change the flow of the creek in any way, ensure that you do not create a flooding hazard.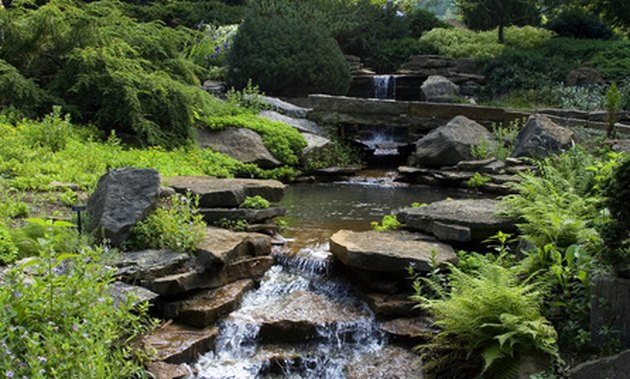 The ground around the creek will be moist, so choose plants that thrive in wet conditions. Shrubs that like the wet include dogwood, which has colorful red branches in the winter; hydrangeas, which flower in pink, purple and blue during the summer months; and hostas, whose green foliage adds a lush green background to other plantings. Irises like wet conditions and their bladelike leaves will offer structure to your plantings. Different varieties will produce blooms at different times during the growing season, with colors including pink, purple and yellow.
Trees can provide wind shelter, shade for plants that dislike full sun and a central feature for your landscaped creek. Choose trees that are happy in damp conditions. Varieties that fit the bill include box elder, red maple and sycamore.
Position rocks in the creek itself and along its banks. When positioning rocks along the edge of your creek, leave pockets of soil where you can plant. Create a stepping-stone path through your creek using rocks with flat tops, Make sure the rocks are firmly placed in the creek bed so that they will not topple. You can continue the path on both banks of the creek.
Build a patio at the edge of your creek, using paving stones that fit in with the rocks you have already used. You can grow plants that dislike damp soil conditions in containers on the patio. You can also screen the patio with a planting of bamboo; many bamboo varieties thrive in wet conditions.
If there is a path leading to the stream, create an entrance way with a timber pergola. A rustic-style fence along one side of the creek will create a focal point. A garden bench overlooking the stream will create a focus and a peaceful place to enjoy the landscaping.