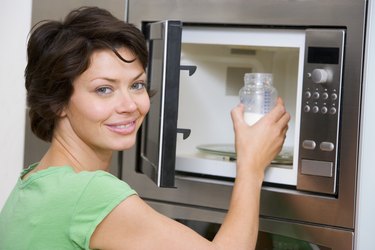 While microwave ovens provide a modern, high-speed method for cooking and reheating just about every type of food, the electromagnetic waves that the ovens emit can sometimes heat our plates as well. These waves excite and accelerate water molecules inside of a microwave oven, thereby generating heat; so if the plate you are using has (or had) moisture inside, you can expect it to be hot to the touch. Several companies produce plates that don't get hot in the microwave.
Progressive Cookware
According to the microwave resource and product guide website Microwave Wizard, the Progressive company is known for its glassware, as well as its high-quality plastic cookware. When it comes to microwaveable plates, its 9 3/4-inch-diameter models are a durable, heat-resistant option. The plates, which come in sets of four, are made of plastic, dishwasher safe and cool to the touch. Using the plates makes it easy to transport items from the microwave to the dinner table without having to grab an oven mitt or potholder. Other heat-resistant microwaveable cookware from Progressive includes a four-egg egg poacher, a bacon cooker and a corn steamer.
Nordic Ware
Unlike Progressive, Nordic Ware manufactures its line of cool-to-the-touch microwaveable cookware from granite. Popular plate options from the company include its set of two, 10-inch-diameter dinner plates, and its three-piece set consisting of one 10-inch plate, one 8-inch plate and one bowl. In addition to using Nordic Ware plates in the microwave, you can also use them in the freezer for storing meals. When you are ready to reheat your frozen food, you can pop the plate directly into the microwave, without fear of cracking or other damage. According to Microwave Wizard, Nordic Ware also produces a microwaveable, egg-shaped egg cooker for hard- and soft-boiled eggs, and a protective plate cover for preventing foods from splattering onto the inside walls of your microwave.
Sealable Food Storage Containers
While many companies well known for producing plastic, microwave-safe containers and lids, which come in a vast array of shapes and sizes, some of those companies also manufacture microwaveable plates. Some of these plates have wide rims. These wide rims provide a cool place to grip when you are removing a freshly reheated meal from the microwave.