Federal grants for roof repair and replacement aren't as common as loans. If you want to repair or replace your roof with a more energy-efficient material, you can probably qualify for tax credits, and you might be able to get some low-interest loans to help with the costs. Roofing grants, however, are usually limited to certain demographic groups and nonprofit organizations. If you don't earn much money, you have more options.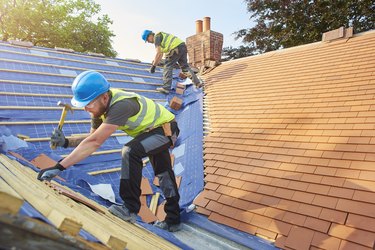 Where to Find Roofing Grants
The federal government is less likely to offer grants than state and local governments. However, if you fall into a low- or very-low-income category, there are some federal grants worth checking into. By low or very low income, the federal government means below 50 percent of area median income for very low income, and 50 to 80 percent of median income for low income.
Types of Grants Available
One type of grant that's available is the Housing Preservation Grant Program, which is available through the U.S. Department of Agriculture. This program has $10 million in grants available, but you can't directly apply for these grants. Instead, you must go through reputable nonprofit organizations that repair and rehabilitate low-income housing. These grants are limited to people who live in rural areas and towns with less than 20,000 people, as well as Native American tribes and people who live on federally recognized tribal lands. These grants are usually made to organizations that rehabilitate housing for low- and very-low-income homeowners, but rental property owners may also receive assistance if they rent housing units to very-low-income citizens. To see about getting one of these grants, or finding an organization that performs the roof repair or replacement, you should check with the USDA Rural Development office in your state.
Another type of grant that's available is the Single Family Self-Help Grants, which are for very-low-income elderly homeowners. These home repair grants are limited to homeowners who are 62 and older whose family income is below 50 percent of the median for their area. The maximum grant is $7,500, and you only get this grant once during your lifetime. Also, if you sell the house within three years, you must repay the grant money. If you can afford to pay for part of the repairs, you may qualify for a grant-loan combination.
There's also the Neighborhood Stabilization Program, which is part of the Department of Housing and Urban Development's Community Development Block Grant program. These block grants are provided to state and local governments to develop housing for low- and moderate-income people, which is up to 120 percent of the area median income. These grants also don't go to individuals. Funding goes to local and state government agencies and qualifying nonprofits. If you represent a nonprofit, you can see past grant applications that scored well to get pointers on submitting a successful grant application.
Weatherization Assistance Program
If you want to improve the energy efficiency of your roof, the U.S. Department of Energy has the Weatherization Assistance Program and the State Energy Program. You automatically qualify if you receive Supplemental Security Income or Aid to Families with Dependent Children. States typically give preference to other groups, including families with children, families with a family member who has a disability and people over 60.
Families who qualify will receive a weatherization audit. New roofing doesn't qualify, so you must be seeking government help with roof repairs, and the average award is $6,500. There is, however, help through the Federal Emergency Management Agency if you were involved in a natural disaster. FEMA will verify your loss claim and will only pay for repairs that make a home safe, sanitary and functional.