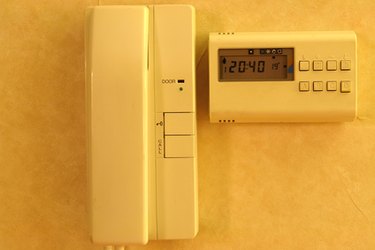 Residential security alarm systems protect your home and family against burglary and fire. Alarm systems not only offer protection, they provide you peace of mind. Honeywell is one of the leading brands in home security systems. Most Honeywell alarm systems offer a special feature that allows the homeowner to set separate codes for the babysitter, the housekeeper, children, grandparents or neighbors. This feature lets others deactivate the alarm with their personal code but does not give them access to all of the menus and features of the alarm system.
To Reset the Master Code
Step 1
Reset the master code by entering your four-digit security code. Press "Enter."
Step 2
Enter "8" to get to the Settings menu. Enter "02" to choose "Reset the Master Code." Press "Enter" again.
Step 3
Enter your new master code twice and press "Enter."
Step 4
Press "1" once you have entered the new master code. The alarm will beep once if the code has been properly reset.
To Reset the Installer Code
Step 1
Reset the Honeywell security alarm by unplugging the transformer to disconnect it from the power source. Disconnect the battery. If the installer code needs to be changed, you will have to reset the entire system. The alarm company will not give out the installer code, since it is typically used for the installation of many different alarm systems.
Step 2
Plug the alarm system transformer back in, then reconnect the battery.
Step 3
Press * and # simultaneously within 30 seconds of turning the alarm system back on. A "20" should appear on the display.
Step 4
Enter a new four-digit installer code. Press "1." The alarm system should beep once to let you know the code has been reset properly. If it does not, repeat the process.
---
Amanda Ballard Coates is a Certified Professional Coder (CPC) and a member of the American Association of Professional Coders. She is also a freelance writer and photographer. She writes mostly nonfiction and has been published on several informative websites. Ballard Coates' writing has been published on websites such as Healthmad.com, Quazen.com, Gomestic.com and Socyberty.com.