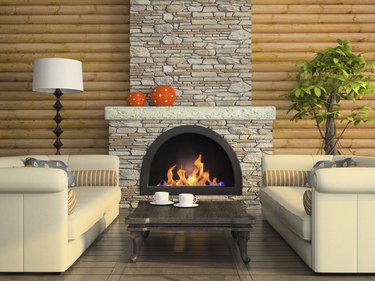 Furniture arrangement around a fireplace that defies safety rules for the sake of style not only is poor design but also jeopardizes your furnishings and the occupants of your space. There is a minimum distance that should be maintained between fire and flammable items such as furniture and carpet.
More Than an Arm's Length Away
Insurance companies, government agencies and fireplace manufacturers recommend placing furniture a minimum of 3 feet away from a fire burning in any type of fireplace. Follow this guideline even if you use a fireplace screen, chain-link curtains or glass doors. Intense heat from a fire can ignite some furnishings just as a flame can. Keep antique upholstered seating, wood and plastic furniture, rugs and furnishings made from dried natural materials such as grasses more than 3 feet away from the fireplace if possible. Televisions should not be mounted above a fireplace.
Plan for the Unexpected
Even if furniture and accessories are placed 3 or more feet away from the fireplace, items can topple or be tossed near the heat, against hot fireplace doors or close to the fire. Stabilize or select lamps and accessories with heavy bases that remain upright if bumped. Avoid using throw pillows and blankets near the fireplace if children or pets might toss or knock them into the fire. Check to see if a breeze might blow draperies too close to your fireplace and create a hazard.
---
Cynthia T. Toney, a former newspaper designer, began writing in 1999 for a newsletter devoted to decorating with salvage. As advertising and marketing director for an educational publisher, she wrote copy for its website, catalogs and mailings. Toney also has been an interior decorator and is the author of a teen novel, "Bird Face." She holds a Bachelor of Arts in art education.