The microwave has been a useful appliance in the American home since about 1970, according to the American Heritage website. The American housewife adapted to the use of a microwave oven as an important addition to the kitchen by learning how to cook meat, vegetables and even desserts in a microwave. The way microwave ovens heat food, however, often causes food to splatter, which means microwaves need regular cleaning. Ordinary household products clean a microwave as well as purchased cleaning products made for kitchen use; so next time you clean your microwave, try this vinegar solution.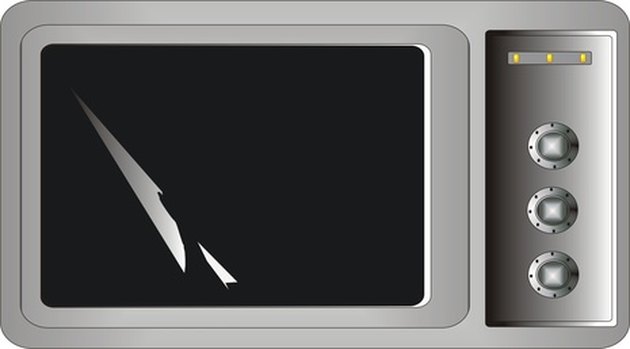 Step 1
Mix ½ cup water and ½ cup white vinegar in a microwave-safe bowl or measuring cup, recommends Colorado State University Food Science Extension Service. Other websites recommend different proportions, but this is an easy mixture to remember.
Step 2
Place the solution in your microwave and turn the microwave on "high" for 2 minutes. The vinegar water mixture will boil, but do not let it boil dry.
Step 3
Leave the bowl without opening the microwave for 15 minutes. The steam from the vinegar water will soften any food particles.
Step 4
Open the microwave and remove the bowl. Wipe the sides and top of the microwave oven with a sponge or dishcloth to remove all baked-on food.
Step 5
Repeat once a week to keep the microwave clean and odor-free. This is an economical, safe way to clean the microwave oven.