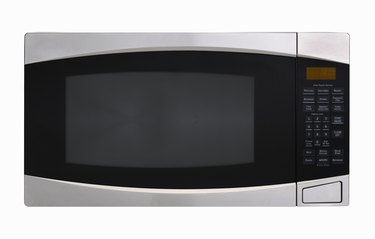 According to the U.S. Trade Board Statistics, the microwave is the most purchased kitchen appliance in the world. The Frigidaire company is one of the top producers of microwave ovens. If you have a Frigidaire microwave and it seems not to be functioning properly, you can troubleshoot the unit yourself. However, if your microwave is still not working after you troubleshoot it, bring the unit to a Frigidaire service center, as it may need repairs that cannot be solved by simple troubleshooting.
Step 1
Try to cook something simple such as microwave popcorn. If the unit does not light up or turn on, check the outlet with another appliance to make sure the outlet is functioning correctly.
Step 2
Check the fuses or circuit breakers in you house. If the outlet does not work after testing it with another appliance, try to plug the microwave in a different outlet.
Step 3
Check the hinges and door hooks to make sure the door is closing properly. Look to see whether a small piece of food is clinging to the door, preventing it from closing all the way. Check the release mechanism and the rotating plate to make sure they can move freely as well.
Step 4
Plug in the microwave and start it a the bag of microwave popcorn inside. If the lights go on but it is not producing heat, listen and try to hear whether the unit sounds the way it usually does. If it does not, there might be problems with the circuit board. This will need to be repaired by a certified Frigidaire professional.
Step 5
Check the display that shows the time and power. If the display is flickering but it does not alter the operation of the microwave, it is not a problem. If, however, the lights flicker and your food is not heating, there may be a problem in the microwave cabinet.
Step 6
Listen for buzzing sounds. If there is a buzzing sound and no heat is being produced, you may have to get a new magnetron, power diode, or high-voltage capacitor. These can be purchased from a Frigidaire retailer.
Step 7
Look at the handle on the door. The most common complaint about all models of the Frigidaire microwave, according to Consumeraffairs.com, was cracked or broken door handles. Frigidaire will replace faulty handles while the oven is under warranty. In many cases, they will replace the handle even after the warranty expires for a "reasonable" amount of time.