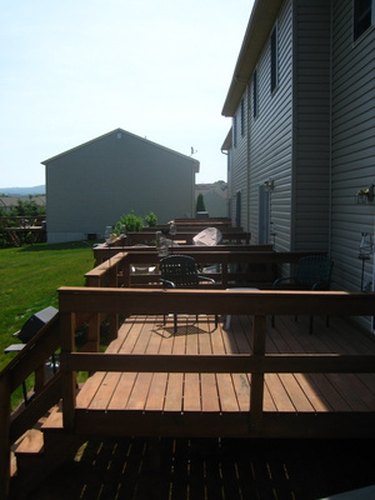 Decks must be built according to certain codes to ensure that they are safe for everyone who visits or lives in the home. It is especially important to build decks with safety in mind in cold areas such as Michigan, to increase durability and minimize injuries from slipping during cold, icy months.
Stairs
The steps of the deck must be at least 36 inches wide. The step riser, which is the vertical part of the stair that raises the step above the previous one, can reach a maximum of 8 ¼ inches high (minimum 4 inches). The tread, or part of the stair that you walk on, must have a minimum depth of 9 inches, and approximately a 1-inch nosing (the additional portion of the tread that extends beyond the riser). In the full run of all the stairs, there can only be a 3/8-inch variance of riser heights or tread depths.
Handrails
Stairs that have four or more risers need to have a handrail on either side or on both sides of the stairs. The handrail should reach a height of 34 to 38 inches above the stair nosing. From a point above the top riser to a point directly above the bottom riser, the handrails must extend the entire run of the stairs. The handrails next to a wall need to have at least 1 1/2 inches between the handrail and the wall.
Material
You are required to use naturally durable lumber or preservative-treated lumber. The naturally durable lumber includes decay-resistant woods such as redwood, cedars, black locust and black walnut. There are naturally termite-resistant woods such as redwood and eastern red cedar. The preservative-treated wood uses poisons, such as arsenic, to create the same effects as decay and termite resistance. When you walk onto your deck, you may track these chemicals back into your home or absorb them through your skin if you are barefooted. These specified woods are needed for areas above the ground that are not sheltered by a roof or overhang, and supporting elements that touch the ground.
---
Mercedes Martinez is an eco-designer focusing on renovations. She has a degree in interior design and a minor in architecture. Recently, Martinez has been enjoying exploring her writing skills that have developed her passion for design.