Things You'll Need
Stock tank

Drain compression fitting

Tub faucets

Caulking

1 1/2 inch PVC

Rubber stopper

Drill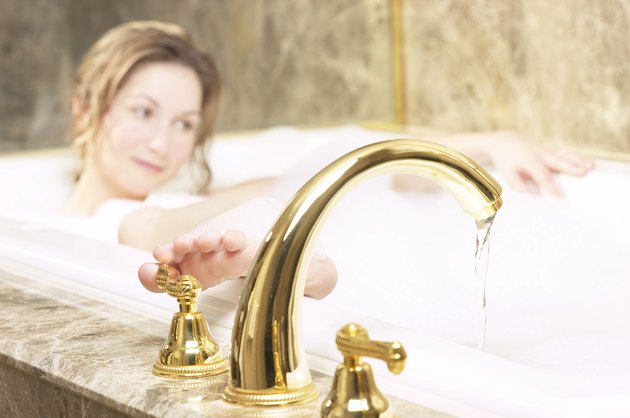 Galvanized stock tanks are commonly used to supply water to farm animals such as cattle and horses. Available in a number of sizes from feed and farm supply stores, the tanks usually cost less than similarly functioning plumbing fixtures. Galvanized stock tanks hold water like bathtubs but usually do not have a bottom drain or a sloping bottom. Tubs made out of these tanks fit well in rustic or western decors.
Step 1
Place the stock tank where it will be used as a bathtub. Mark the bottom of the tank at the spot where it will meet the tub drain pipe.
Step 2
Drill a 1 1/2 inch hole in the bottom of the stock tank at the point where the drain will be installed. Fit the drain fitting through the hole and tighten in place with the nut from the bottom side. This compression fitting usually comes with rubber gaskets that are supplemented with caulking to create a waterproof seal at the drain. Connect the drain pipe to the household drain pipe using flexible 1 1/2 inch PVC and a compression fitting. This is usually done in the basement or crawl space of the house.
Step 3
Mount a set of tub faucets through the wall above the sides of the stock tank. This is usually done along the long side of octagonal tanks. Previous plumbing work should have roughed in hot and cold water service to a level above the top of the stock tank, usually about 24 inches. Mount the faucets to the services according to manufacturer's instructions.
Tip
The simple compression fitting drain will not include an internal stopper. The tub is usually plugged with a rubber stopper. Stock tanks fitted with wood or propane fired water heaters function similarly to a spa tub. These "cowboy hot tubs" are more economical than commercially available hot tubs but are generally used outdoors because of the exhaust from the heating system.
Warning
Stock tanks don't have the sloped bottom that allows a bathtub to drain completely. Stock tanks also have higher sides than bathtubs. This can make entering or exiting the tub more difficult and possibly more dangerous.
---
Keith Allen, a 1979 graduate of Valley City State College, has worked at a variety of jobs including computer operator, medical clinic manager, radio talk show host and potato sorter. For over five years he has worked as a newspaper reporter and historic researcher. His works have appeared in regional newspapers in North Dakota and in "North Dakota Horizons" and "Cowboys and Indians" magazines.