A wood pellet stove offers a convenient way to use renewable energy to heat a home. Pellet stoves burn compressed wood chips and other materials. The stoves use augers and hoppers, usually filled once a day, to feed the flames. Wood pellet stoves are being retrofitted into locations where wood stoves or fireplaces have been used in the past. In these cases the existing chimney or flue may be used.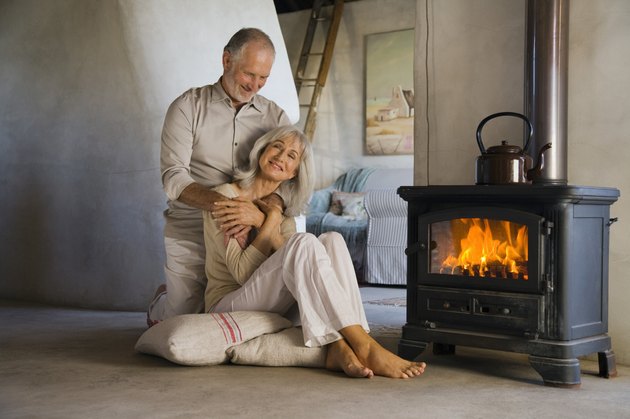 Step 1
Place the wood pellet stove in front of the existing chimney location. This may require a longer air intake pipe for the stove. Confirm that the clearance, the airspace between the stove and the walls, meets the minimums defined in the owner's manual for the stove. Make sure the stove is setting on a fireproof base such as stone or ceramic tile.
Step 2
Install a flue liner inside the chimney. The liner reduces the size of the flue used to ventilate the wood pellet stove. Hot gases rise and will exit the flue at the top of the chimney. Measure the vertical rise of the chimney from a point about in the middle of the firebox below the chimney to a point about four inches above the top lip of the current chimney. Assemble the flue liner according to the manufacturer's instructions. Wrap the flue liner with the supplied insulation and tape in place. Lower the flue liner into place from the roof of the home. Anchor in place, with supplied hardware, at the top and bottom of the flue liner.
Step 3
Connect the stove to the fitting at the bottom of the flue liner. This may involve a length of double insulated vent pipe and fittings, depending on the manufacturer and model of stove and flue. Tighten any fittings according to instructions to create an airtight connection between the stove and the flue liner. Connect the stove to the outside fresh air inlet pipe and plug the stove into a standard household outlet.