Things You'll Need
Washcloth

Soap

Putty knife

Laminate filler or repair paste

Ammonia cleaner

Top coat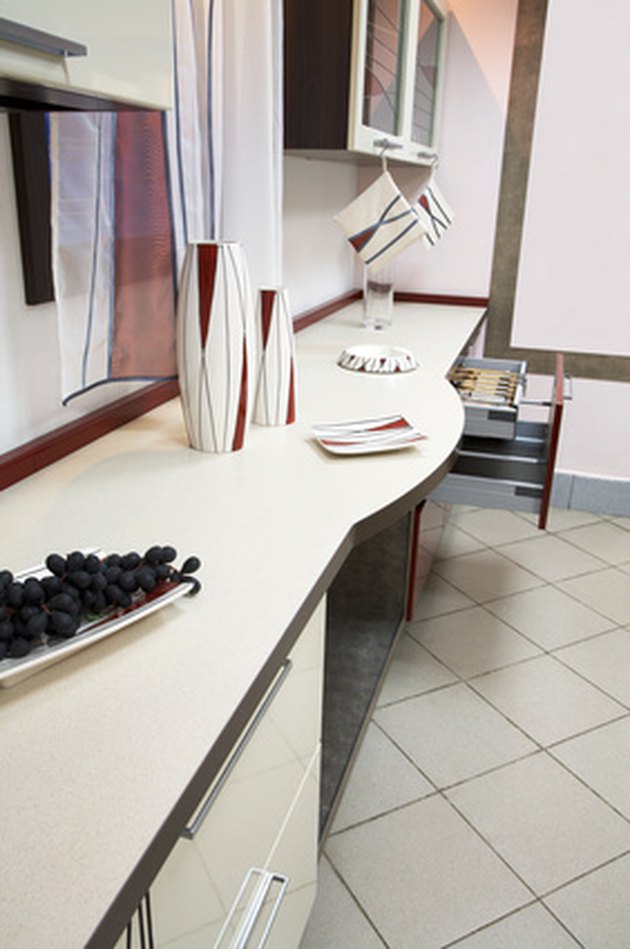 Formica laminate countertops have long been a favorite in kitchens because they are inexpensive and easy to maintain. If your kitchen has a laminate countertop, there are ways to make it endure for many years of heavy use, despite the occasional accident. Clean stains with bleach or ammonia and repair minor scratches with polish. Repair holes with putty and laminate repair paste that is sold at your local home and garden store.
Step 1
Clean the hole and the area around it with a dry washcloth. This helps to wipe off any loose particle board or other debris that may be there. Put a very small amount of ammonia cleaner on the washcloth and wipe again. Allow 15 to 20 minutes for the cleaner to thoroughly air dry.
Step 2
Apply laminate repair paste, sometimes known as laminate filler, into the hole you are trying to fill. Hardware stores carry the product in a variety of colors. Find the color that matches your counter. If the exact color is not available, mix a few colors together to get the best match.
Step 3
Using a putty knife, spread the filler across the damaged area. Make the filler as smooth as possible. Fill into the hole until it is even with the rest of the counter top.
Step 4
Wipe away any extra filler or paste with the damp wash cloth. Allow 24 hours to dry completely.
Step 5
Spray a light top coat finish on the filled-in hole. Top coat is a transparent coat of paint that acts as a sealer for the area it is coating. Top coat is sold at your local home and garden store or paint supply store. This will give the filler a sheen to match the rest of your counter top and protect the filler, or repair paste, from additional damage or moisture.
---
Melanie Fleury has been writing professionally since 1995. She has written for various educational websites such as Edhelper.com and is the educational consultant at the Knowledge Tree Center for Education. She enjoys creating curriculum for children with various learning styles. Fleury holds a master's degree in education specializing in early childhood from Ashwood University.