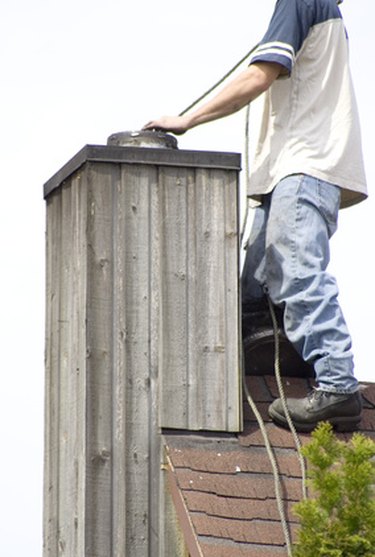 Chimney pipe is insulated metal pipe used to vent safely to the outside air the products of combustion produced by wood, coal or oil. It is not necessarily installed in a chimney; it can be freestanding. Stove pipe is uninsulated pipe used in the room where the stove or other appliance is located. Stove pipe is made in single- and double-wall versions. Chimney pipe also is made in two types, double wall and triple wall.
Listing
Double- and triple-wall insulated pipe is listed as Class A vent pipe and must meet either UL standard 103 or 103HT. UL standard 103 requires pipe capable of safety operating with an internal temperature of 1,000 degrees Fahrenheit and withstanding a maximum temperature of 1,700 degrees Fahrenheit. The comparable numbers for the 103HT standard are 1,700 and 2,100 degrees.
Choice of Listing
The listing required for a particular stove may be specified by the manufacturer. Or your local building code may require a particular listing, either in general or for specific types of fuel or appliance. This can be a reason for using triple-wall pipe rather than double wall. You will need to install chimney pipe meeting the most restrictive listing.
How Used
Single-wall stove pipe can be installed from a stove to within 18 inches of any combustible material. Neither it nor double-wall uninsulated pipe can be used to penetrate ceilings, walls or roofs. In a vertical chimney pipe installation, uninsulated pipe runs to a ceiling box designed for a flat or cathedral ceiling. The insulated pipe goes through the box, through an attic or second floor if applicable, and up to a rain cap. In a horizontal installation, a wall box is used and the insulated vent pipe goes through the wall and up the exterior of the building to a rain cap. Note: Manufacturers' warranties are voided if the installation is not done by a licensed building contractor or chimney professional.
Function
The function of the insulated chimney pipe is to protect adjacent building structures from the high temperatures created by high-output appliances. To do this requires that the pipe remain cool on the outside by having an internal design that creates a fire-safe venting system. Manufacturers use different techniques to achieve this. Chimney pipe may have insulation packed in the gap(s) between the pipes, or it has a ceramic insulating blanket in conjunction with the gap(s). The goal is to minimize the outside diameter of the pipe and the allowable distance from combustibles. This can be 2 inches for double-wall pipe and 1 ½ inches for triple-wall pipe.
Materials and Cost
The outer wall of chimney pipe is stainless steel or galvanized steel. The inner wall is stainless steel. In three-wall pipe the intermediate wall is aluminized steel. The price for a 6-inch inside diameter, 24-inch long section of Class A stainless steel exterior chimney pipe is about $97, as of 2010. The price for the equivalent triple-wall pipe is about $105.