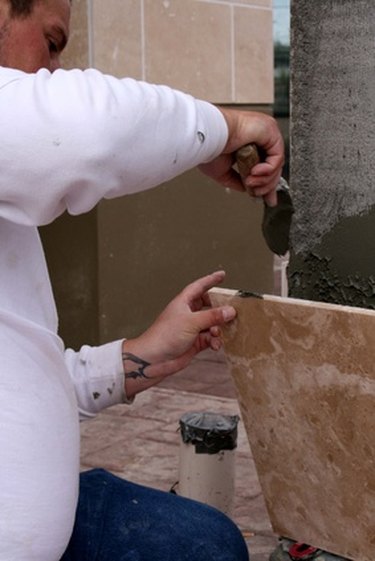 Tile adhesives and the types of tile being installed have undergone many changes over the years. While some types of tile and adhesive have been used for years and remain on the market, new products have been introduced that can lead to some confusion among do-it-yourself installers. No matter what type of tile is being installed, there is an adhesive for the job, such as thinset.
Organic Mastic
The oldest tile adhesive still on the market today is organic adhesive, or mastic. Mastic is used primarily for ceramic tiles, with compounds available for both wall and floor installations. Mastic comes pre-mixed and requires a certain amount of skill and timing to use. Mastic is used for ceramic tiles and must be applied quickly to avoid losing its adhesive properties through premature drying.
Thinset Mortar
Thinset mortar is a mixture of Portland cement, sand, water and additives to retain moisture. Latex is added by many companies to varying degrees for use with different types of tile. Thinset mortar differs from mastic or "mud set" adhesives in its application. A thin layer of mortar is used to hold the tile down, and small amounts of mortar can be mixed at a time to ensure the mortar does not dry prematurely.
Uses of Mastic
Mastic can be used to install ceramic and porcelain tiles to walls and floors. Care should be taken to select the proper type of mastic for the application. New mastics are available that can hold tiles up to 16 inches in size to walls and ceilings. To work with mastic, spread the mortar quickly and twist the tiles into place. Working from the bottom up on walls, with a 2 x 4 to hold the bottom rows of tile in place, is recommended.
Uses of Thinset
Thinset mortar comes in varying types. White thinset mortar is used with natural stone materials and glass tiles. Gray thinset mortar is typically used with ceramic and porcelain floor tiles. Thinset with small amounts of latex added are primarily used for large format tiles, and stone tiles to help absorb flex from floors and walls. This helps to prevent tiles from cracking. Thinset with large amounts of latex added are used with glass tiles, which are unable to flex on their own.
Determining the Product
If installing a small area of ceramic floor or wall tiles, mastic is the better choice. The adhesive is premixed, does not require water and will hold the tiles in place with no beating or additives. If installing a large amount of tiles, stone tiles or glass tiles, thinset mortar should be used. Thinset mortar can also be used for small jobs, if the material in question is unknown.