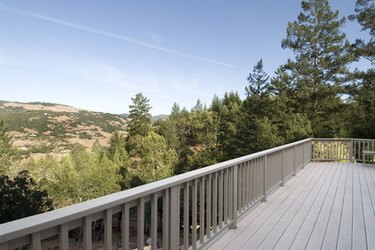 North Carolina building codes for deck railings are the same as any other state's. The codes are based on the International Building Code and the International Residential Building Code, and deck railings and guards must meet or exceed the minimum requirements. However, the International Building Code and International Residential Building Code differ depending on whether the structure is a multifamily or single family structure.
Necessity
A deck must have a guardrail when the difference in distance between the deck and the ground plane is greater than 30 inches. Furthermore, deck stairs require a handrail when there are four or more stair risers.
Handrail Height
Single family homes require a 36-inch minimum height for deck guardrails, whereas multifamily, commercial and other kinds of projects require a minimum 42-inch guardrail with a handrail that is 34 inches to 38 inches above the deck. Stairs for all types of structures require handrails between 34 inches and 38 inches above the stair tread.
Openings
A deck guardrail and stair handrails require openings no greater than 4 inches along the railing surface, although the rail can have a 6-inch gap at the base of the railing and stair riser.
Strength
The codes require the guardrail and handrail to be able to support a load of 50 lbs. per linear foot from any direction. So, a railing must be able to bear the load laterally, that is from the side, as well as from the top.