You've spent enough on your Bissell cleaner to justify being frustrated when it doesn't do as it's intended. But don't fret. It could require a simple fix to get it working properly again.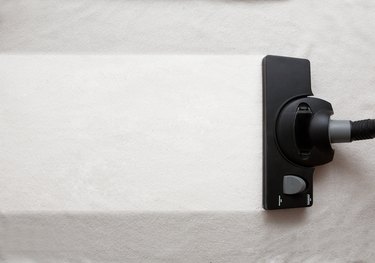 Brush Basics
If your brushes aren't turning, check the pump belt. This is usually on the right side of your Bissell. It should read "Belt Access" so you can easily locate and check these troublesome parts. You'll need a flat-head screwdriver to push in the slots to see if the belt is in good shape. If not, you can find a replacement online.
If the belt seems fine, take a long look at the brush. A toy or other small object could have inadvertently been sucked up and jammed the brush. Remove the brush completely from the housing. You'll need to unscrew two screws on each side of the brush housing, but they are easy to put back. If the brush is bent or worn down, you can order a replacement. If the housing appears damaged after removing the brushes, a professional carpet cleaner technician can put you back in business.
Lack of Spray Solutions
If your spray is less than stellar, first take all the hoses off the heater and clean them. Check the nozzles for clogs. If hair and grime have gummed up the nozzles, take a tiny cotton swab or a skewer with a cotton ball on the end and clean out the thin housing.
Make sure there is sufficient water in each tank. The detachable O-rings that secure the straw can aid in leakage, so make sure they are tight and fit well.
Lack of Suck Solutions
If it is not sucking up water properly, make sure the dial is set to floor cleaning. Jiggle the tank to ensure it is making a good connection to the machine. Check your filters and make sure all of the doors and latches are properly closed so that the machine can achieve a good suction. Dirty filters will also cause problems, so always check before you start the wet process of cleaning flooring.
When All Else Fails
You can also reprime your Bissell. It's not difficult and recommended if you use your machine quite often. Replace the full tanks into your cleaner and hold the trigger for 30 seconds while your machine is off. Check the spray by turning the machine on.
Always use the recommended detergent. Inexpensive brands of carpet cleaning detergent can clog up the brushes and hoses of your machine over time. A quick rinse with hot water can dissolve dried detergent from the parts. Disassemble the unit on occasion, and give each easily removable piece a good washing as a part of regular maintenance.
It's often the little things that bring down this big, useful machine. Remember to read the instruction manual in order to understand all the moving parts. This will cut down on troubleshooting in the future.