Things You'll Need
2.5mm Allen wrench or

3/32-inch Allen wrench

Crescent wrench

Strap wrench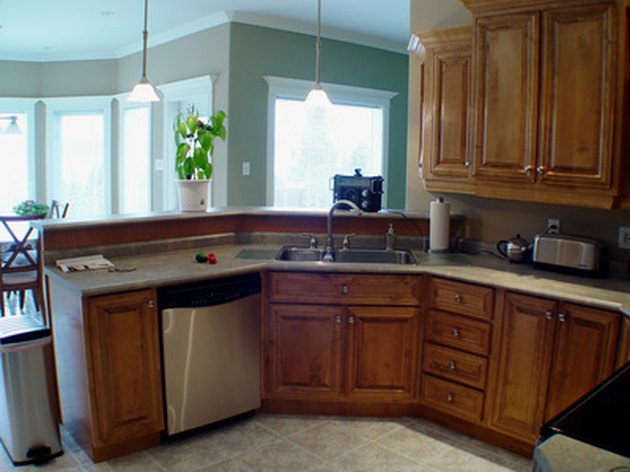 Learning how to fix a leak on a Glacier Bay kitchen faucet is a do-it-yourselfers dream. The simplicity of the design and ease of maintenance make Glazier Bay faucets some of the most popular on the market to date. The limited lifetime warranty insures that you will always be able to get repair parts from the manufacturer free. Remember to register your new faucet warranty and file all receipts and paperwork related to your new Glacier Bay faucet in a safe place.
Fix Water Leaking From Handle
Step 1
Turn the handle to its off position.
Step 2
Remove the handle setscrew (located under the lever) with a 2.5mm Allen wrench. Lift the handle off the Glazier Bay faucet cartridge stem.
Step 3
Tighten the retainer nut under the handle by turning it clockwise with and crescent wrench.
Step 4
Set the handle back on the stem and turn the handle on and off.
Step 5
Visually inspect for leaks around the retaining nut. If no leaks found, replace the handle setscrew.
Fix Water Dripping From Spout
Step 1
Turn off the water supply valve under the sink.
Step 2
Remove the lever handle setscrew with a 3/32-inch Allen wrench.
Step 3
Unscrew the retaining ring by turning it counterclockwise with a crescent wrench.
Step 4
Pull the Glacier Bay cartridge out of the kitchen faucet and inspect the O-ring for damage.
Step 5
Replace the O-ring by rolling it off the cartridge and rolling a new one on. If no O-ring damage is present, replace the cartridge.
Fix Water Leaking Around the Spout Base
Step 1
Unscrew the Glacier Bay faucet spout by grasping the spout's base in your hand and turning it to the left.
Step 2
Remove all three of the spout's O-rings by rolling the down and off the spout.
Step 3
Install a new Glacier Bay spout seal kit by rolling the new seals up onto the spout and coating them with silicon grease.
Step 4
Push the spout back down into the faucet body and tighten the spout base by hand.
Step 5
Run the water for a few minutes and rotate the spout back and forth to check for leaks.
Tip
If you need help unscrewing the spout, use a small strap wrench.
Always apply a thin layer of waterproof or silicon grease on all rubber seals and O-rings.
Warning
Do not use any sharp tools on the handles or spout fittings; you could ruin the finish of the faucet.
---
Kelly Schuler is both a writer and a plumber. He self published "Plumbing Do's and Dont's" in 1999. Schuler has been a licensed plumbing and gas-fitting contractor since 2001 and a licensed journeyman plumber since 1986. He actively owned and operated his own plumbing and gas fitting business from 2001 to 2008.