Things You'll Need
Screwdriver

Crescent wrench

Washcloth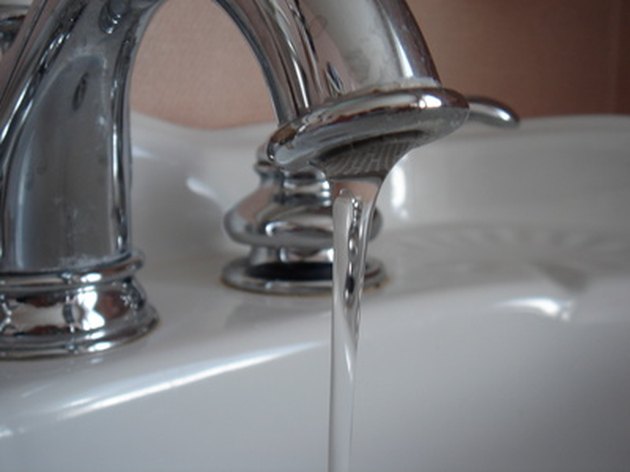 Repairing a Pegasus kitchen faucet from The Home Depot is an easy DIY project. The hardest thing about a Pegasus faucet repair is finding the replacement parts as very few retail or online outlets offer Pegasus faucet parts for sale. Your best bet to find parts is calling the warranty number that came with your faucet. Pegasus faucets come with a limited lifetime warranty that will provide you with free parts as long as you own the faucet.
Step 1
Remove the handle assemblies. Pop out the screw caps on the top of each handle with your fingers. Remove the mounting screws with your screwdriver. Lift the handle seats of the faucet stems. Pull off the the small plastic hexagon shaped inverters.
Step 2
Remove the Pegasus faucet cartridges. Unscrew the cartridge bonnet nuts with a crescent wench. Lift the Pegasus cartridge stems out of the faucet body. Clean any debris from inside the faucet with a washcloth.
Step 3
Install the new Pegasus faucet cartridges. Line up the cartridge guide with the slot in the faucet body. Push the cartridge in firmly; secure with the bonnet nut.
Step 4
Reinstall the handle assemblies. Place the inverters on each Pegasus cartridge stem. Set the handle assemblies on each inverter. Replace the handle screws and screw caps.
Step 5
Test the faucet's operation and check for leaks.
Tip
You may need to adjust the handles a couple of times to get them set in the right position.
Warning
Do not over tighten the bonnet nuts, you can damage the faucet.
---
Kelly Schuler is both a writer and a plumber. He self published "Plumbing Do's and Dont's" in 1999. Schuler has been a licensed plumbing and gas-fitting contractor since 2001 and a licensed journeyman plumber since 1986. He actively owned and operated his own plumbing and gas fitting business from 2001 to 2008.