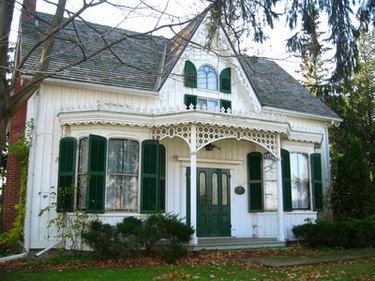 Choosing to paint or put siding on your house is an important decision that will stay with you for years. Both finishing styles require a large investment of money, time and work, and so great consideration needs to be given to the comparative costs, both initial and long-term, of each method. These costs vary according to the materials chosen and whether you do the work yourself or hire outside help. Understanding of materials available and benefits and drawbacks of each can help you to make an informed decision.
Cost of Painting Your Home
Painting is the first option. It is much less expensive than siding with any material, and if done carefully will give your home a fresh look and protection against weather damage that can last several years. Paint can be tinted to any color and small details can be preserved, so your options in terms of appearance are practically limitless.
High quality paint lasts longer, so use the best you can afford. Typical exterior paint costs between $25 and $40 a gallon, and premium paint is twice that at $50 to $100. A 3,000 square foot house will require 15 or more gallons (or up to 25 percent more if you change from a dark to light color or vice versa), so the cost in paint will be between $375 and $600 for regular paint and between $750 and $1,500 for premium.
If doing the work yourself, additional costs may include renting equipment. A pressure washer is usually $50 to $100 per day day, scaffolding or extra long ladders run from $20 to $75 daily, and a power sprayer (if you don't want to paint with a brush) is $50 to $100 per day day. You may also need to consider costs of masking tape, drop cloths, brushes and paint pans, depending on what you have.
If you hire a contractor, labor will account for up to 85 percent of the cost. An average one-story, three-bedroom home may range from $1,500 to $3,000, and multi-level homes can easily cost $3,000 to $5,500.
Drawbacks of Painting
Even the best quality paint will need to be replaced in five to seven years, and cheaper paint will peel and fade in four years or less.
Painting involves a lot of prep work that needs to be done well, or the paint will peel even sooner. All loose paint needs to be removed, either by pressure washing or scraping. Mold and mildew must be totally cleaned away with a commercial cleaner or bleach and water, and dark stains will bleed through unless sealed. Rough wood must be primed, and all rough surfaces sanded smooth.
All other repairs, such as replacing loose or rotted wood or siding (if you're re-painting siding), caulking seams, and fixing woodwork add additional time and costs to the overall project.
Painting, together with the prep work, is labor intensive. A homeowner working alone can expect to invest 22 hours or more in the process.
Costs of Siding Material
Siding your home is the second option. Siding is available in a wide range of materials. The price per square foot will fluctuate, but the rough estimate is listed after each material to give a sense of comparison. Non-hardwood sidings are the cheapest, with cypress at about $1.33 per linear foot, clapboard with one smooth side $2.05 and plywood ranging from $2 to $4 per square foot. Vinyl is comparable ($2 to $7 per square foot), followed by fiber cement board ($3 to $4), hardwood ($3.50 to $6.50), aluminum ($3 to $5), stucco ($4 to $9), slate shingles ($5 and up), wood shingles and shake siding ($5.12 to $7.40), brick and stone veneer($11 to $15), brick ($6 to $12 initially or $18 and up to replace), and stone ($15 to $30). All of these materials cost more than paint, but they also last longer, are more durable and, in most cases, have less maintenance, though any wood siding will need to be weather-proofed and finished.
When calculating the cost of siding, consider not only the initial price, but the amount your home will appreciate in value, the maintenance costs and the longevity of the material. Siding materials such as wood, vinyl, and cement board, if sufficiently maintained, will last anywhere fro 25 to 50 years, and other materials such as stone, brick, brick veneer, and slate can last for centuries.
Costs of Siding Installation
All of the costs will increase substantially if you hire a contractor to do the work. For example, having professionally installed vinyl hung on an 2,000 square-foot house (50 feet long, 40 feet wide and 10 feet tall) will cost anywhere from $3,600 to $13,000. Clearly, the prices are high even for a relatively inexpensive material, and the range is vast. Prices will be affected by the quality of the siding, the thickness, the insulation and the contractor's labor fees.
The estimate you get from any siding contractor should include prices for stripping old siding and disposing of it, which can cost anywhere from $1,000 to $3,000 by itself. Many contractors give estimates for re-siding one side of the house versus the entire structure, which may help to keep the price down and space the project out over a couple years.
Drawbacks of Siding
Not all siding is created equal, and unfortunately, some of the more affordable options are the least durable and weather-resistant. Vinyl siding is highly flexible and, therefore, tends to bend and warp. Because it expands and contracts in temperature changes, the paint on it chips off or cracks and will then need to be re-painted or replaced. There are also environmental concerns regarding vinyl siding because it releases a toxic gas called dioxin when it burns. Wood siding, too, will need to be continually kept up to keep it protected against fading, weathering, mold and rot.
Although the color selection is generally good, it is more limited than paint, and if you choose a siding with a tendency to fade, chip or warp, you may end up painting anyway.