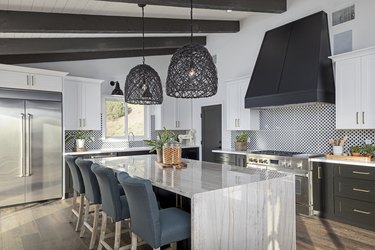 With all the shades, patterns and floor systems available on the market, making a decision on the best flooring that works for your specific space can seem like one more overwhelming endeavor.
However, the different types of wood flooring that are available make it easy to create a gorgeous expanse of durable décor on your floor with the warmth and feel of wood.
Choosing a wooden flooring system is important. The right one should be easy to install over your current flooring or foundation and last for generations.
Types of Wooden Flooring
Hardwood may be a classic choice, but it can be difficult to care for and expensive to install. There are many other types of wooden flooring that are just as stunning, durable and much more affordable.
Engineered wood is constructed from layers of different types of wood. The wood is pressed together to create a sturdy plank. The top layer of the engineered wood board is a slice of hardwood from one species.
Each wood flooring type has its share of pros and cons. Choose one that works well with your area, moisture level and high-traffic issues. Most can be picked up at a lumber yard or home improvement chain.
Flooring Systems Defined
A flooring system is how the material and pieces fit together. It is a group of components that are fastened together to create a smooth, even and beautiful floor. Typically, a flooring system will require support at its opposite sides.
The support for a flooring system is usually a concrete foundation or comes from wall framing, steel girders or other lightweight and sturdy framework on a second floor.
Dimensional lumber is a common flooring system with three main components. These include the subfloor, joists and beam. The beam provides added strength at the middle point and spans the distance between the two sides of the floor. Joists run perpendicular to the beam, with a center point resting on the support. Thesubfloor lays across the joists, fastened on by screws and glue.
Truss takes the place of joists and are made from high-grade wood or laminated lumber products. There are two types: open and closed web.
Wooden Flooring Advantages and Disadvantages
There is a considerable amount of flooring materials to consider. These include hardwood, engineered hardwood, bamboo, and cork. Choosing to install a wooden floor, whether hardwood or engineered wood planks, comes with a few things to keep in mind.
A vast expanse of hardwood offers a rich appearance to a home's interior. It ages well and is resistant to allergens, such as dust that creates a nuisance for those with respiratory issues. Installing hardwood is generally an easy process, depending on the wood.
But flooring does not do well with atmospheric changes, and will expand and contract with dips in heat and cold. It requires regular maintenance and can be scratched by heavy traffic, pets and sharp objects. Areas that get wet often, like the bathroom or kitchen, aren't a good choice for wooden flooring.
What Type of Flooring System to Choose?
If you have a concrete subfloor, then you may want to choose engineered flooring. It has an advantage over installation because it can get glued straight onto the concrete. A soundproofing mat is preferred to cut down on noise.
Some engineered floors, particularly those that are the most affordable, have a thin veneer of real wood. If you like to remodel and change up your style, the thin veneer can't be sanded and refinished.