Things You'll Need
Stihl .080 mm replacement string

Scissors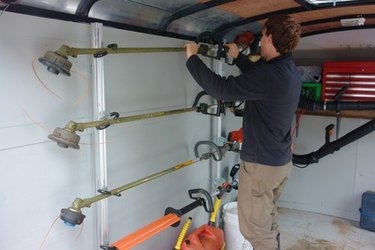 The nylon string used in a Stihl FS 45 trimmer can wear out quickly if you use it over rough, rocky ground or around hard-edged objects. This line is wrapped around a spool that rests inside the trimmer head. The string is fed out through an attached spring that pushes out a new section when you bump the knob on the ground. Be sure that you use only the recommended length and diameter of string in your FS 45 trimmer.
Step 1
Turn the FS 45 trimmer off and let the engine cool. Flip the trimmer engine down so you can work on the head.
Step 2
Hold the outer rim of the spool retainer. Push the center bump knob and turn it in the direction of the arrow on the cover. Pull out the spool retainer from the head. Remove any remaining old string.
Step 3
Cut off approximately 25 feet of new string, and fold the string in half. Insert one end in the hole on the inner reel. Pull the string all the way through until the loop at the end is as tight as you can make it.
Step 4
Hold the inner reel with one hand, and with the other begin winding the string around the reel. Place your thumb or finger between the two lines to keep them separated. Create flat, even rows while making sure that none of the layers crisscross or overlap.
Step 5
Stick the remaining 8 inches of string into the two notches on the inner reel's upper flange. Hold the inner reel while threading the two ends into the eyelets on the trimmer head.
Step 6
Push the inner reel down into the trimmer head. Place the cover back over the inner reel and secure it by turning it in the opposite direction.
Tip
Try not to let the spring become detached from the inner reel when removing the string from the trimmer head.
---
Currently based in Minneapolis, Minn., Eric Blankenburg has been a freelance journalist since 2000. His articles have appeared in "Outside Missoula, Outside Bozeman," "Hello Chengdu" and online at GoNomad.com and various other websites. He holds a Bachelor of Arts in creative writing from the University of Montana.