Travertine tile has a long history that dates back to the ancient Greeks. It's a natural stone, similar to limestone, that takes hundreds of years to form inside hot springs and limestone caves. It has a lovely, porous and pitted surface that's a natural result of gases escaping during formation. Most travertine in the United States is imported from other countries, making it a somewhat pricey choice for residential flooring. But, once you've made the decision to install this tile, take care to properly clean and maintain it.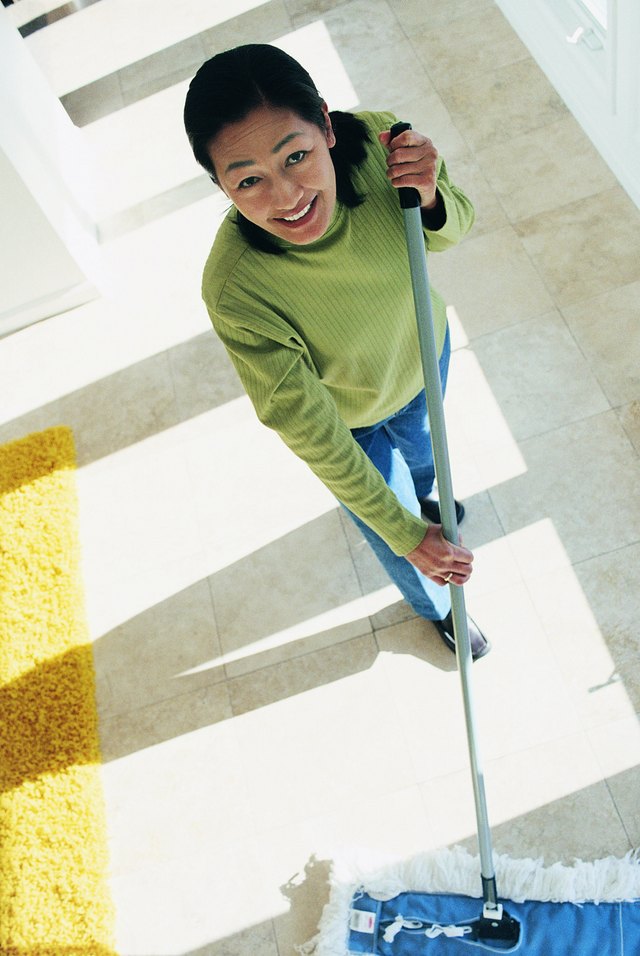 credit:
Digital Vision./Photodisc/Getty Images
The first step in cleaning your travertine tile involves breaking out your dust mop. Dry mopping this type of floor on a daily basis helps keep tile looking new and bright. Travertine is a soft, porous stone that's more easily scratched and marred than other similar types of tile. Running a dust mop over it at least once a day removes large pieces of dirt, grit or even crumbs that could scratch the finish.
For travertine, use a neutral cleaner that's neither acidic nor alkaline; in other words, use a cleanser with a pH between 6.5 and 7.5. Alkaline cleaners -- those with a higher pH, such as ammonia -- can etch the delicate stone. Cleansers with a lower pH, such as vinegar, are too acidic and can damage the finish. Rubbing alcohol and water with a touch of dishwashing detergent added works well on travertine.
Avoid using excessive amounts of stone cleaner on your travertine tiles. Too much can leave streaks behind. Simply follow the directions on your neutral cleaner of choice, apply it to the floor using a soft, non-abrasive mop, and then wipe it gently away with a microfiber cloth or use a second clean, dry mop. Never allow water or cleaner to pool and remain on travertine; it's a porous stone, subject to staining.
Travertine Dos and Don'ts
Travertine performs best when sealed on an annual basis. This is a relatively simple process, especially when performed by a professional, but it takes a minimum of 48 hours, which can be inconvenient. Make plans once a year to avoid your travertine floor while it's resealed. A second important factor to keep in mind regarding this porous stone flooring is that it's easily stained. Wipe up spills immediately. Make use of door mats and scatter rugs to help your delicate flooring stay clean and free from debris.