Things You'll Need
1 cup water

1 cup liquid dish soap

Spray bottle with adjustable nozzle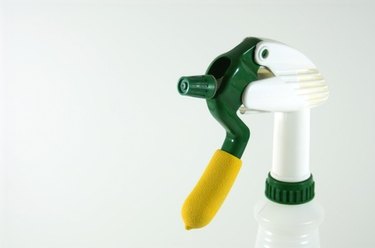 There are many uses for a leak detector solution around the house. Whether you're trying to find the source of a slow leak in a car tire or find the hole that's causing your children's bouncy house to deflate, a leak detector solution can pinpoint the problem quickly. A leak detector solution can also be used proactively to check your hoses when you start your barbecue grill up for the first time in the spring to be sure there are no cracks that can lead to gas leaks.
Step 1
Combine 1 cup water with 1 cup liquid dish soap in a spray bottle and swirl gently to mix.
Step 2
Set the spray bottle to a direct stream spray.
Step 3
Spray the item you are checking for leaks thoroughly with the homemade leak detector solution. The air or gas leaking out will cause bubbles to form at the leak site.
Tip
If you need to check a large area for a leak, or you don't have a spray bottle on hand, mix equal parts liquid dish soap with water in a bowl or bucket and apply it to the object you are testing for leaks with a sponge.
Warning
Do not shake the spray bottle to combine the soap and the water, or you will end up with bubbles instead of a liquid solution.
---
Based in Grand Rapids, Michigan, Elizabeth Grace is a freelance writer. She holds a Bachelor of Arts in public relations from Pepperdine University, and has 15 years of experience developing marketing campaigns for universities and multinational corporations.