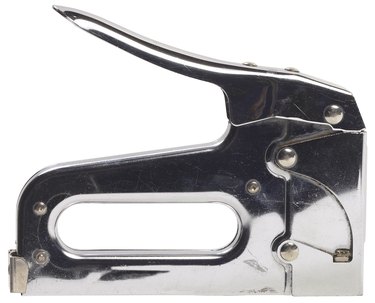 Reupholstering old chairs is an inexpensive way to give a whole room a face lift. Studs and nailhead trim are both fabulous accents for a whole range of fabrics from leather to the most delicately printed cotton. Using upholstery studs is not hard, whether you are removing originals or adding new ones. They are easier to remove than staples, and much simpler to add than fancy trim that requires sewing. Reupholstering with studs can add new life to any old chair.
Step 1
Pop out old studs with a tack lifter. These look like a flat-head screwdriver with forked blade, and are available at hardware and home improvement stores.
Step 2
Place the old studs in a bowl to keep them from getting lost or ending up under someone's bare feet.
Step 3
Cut the old fabric away from the seat and back of the chair with a utility knife, and check the condition of the foam underneath it. Remove old foam that is not in good shape.
Step 4
Spray foam that is in good condition with spray adhesive and press it to the chair's seat and back. Trim away any excess with a utility knife.
Step 5
Spray a light coating of adhesive onto the foam and attach the batting. Let it dry for five to 10 seconds and then trim away the excess with scissors.
Step 6
Lay your new fabric over the foam and batting on the chair's seat and back. Trace the shape of where the fabric will fit onto the back and the seat of the chair with chalk.
Step 7
Cut out the fabric, leaving at least 1/8 inch extra on the outside of the chalk line.
Step 8
Tuck that 1/8 inch under the edges and iron them flat. Pull the fabric taut over the foam and batting, and secure it with a few staples.
Step 9
Replace the studs you removed by tapping them in to place with a small hammer, or give the chair a more complete makeover with brand-new nailhead trim.