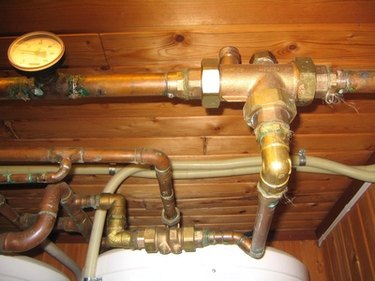 If you are installing a hot water heater, you must place it according to your local regulations and codes. These can differ from state to state and even county to county, so make sure you call your local government offices to make sure you place the heater in a correct position. Call your state planning offices for more information, or find a knowledgeable contractor who can offer advice.
General Placement
Most regulations are fairly simply, and require that water heaters be placed against an external wall of the house. This is why most hot water heaters are in garages or basements. You will want to place your water heater next to an outer wall to make room for the flue. You should also find a place where the water heater is near to the faucets that you will be using for hot water. As water is pumped from the heater tank, it rapidly loses heat through the piping, so the farther away the faucets are from the hot water heater, the more energy will be wasted on the way and the harder the heater will have to work. Place your heater as near as you can to your kitchen and bathrooms to save energy.
Depending on the type of water heater you have, you should also make sure nearby surfaces are protected from gas or water leaks. Do not place the heater in a location where water can easily access foundations and subfloors, or where gas can easily filter into the house. If you have a gas heater, you will need to install it in an open space or provide adequate ventilation. Keep all flammable materials away from the heater, and try to place it so that maintenance and routine inspections are easy and all panels are accessible.
Specific Placement Requirements
Water heaters must be placed on a level surface. If the concrete floor is uneven, use shims on the base of the water heater to make it perfectly level. This is very important for water and gas flow. You will also need to place the heater near a floor drain, so that any water leaks will immediately drain out and away from the house. This can be very difficult, so most regulations allow you to use a drain pan instead. The drain pan should be at least two inches deep and be at least two inches longer and wider than the water heater dimensions. Place it under the heater and pipe it into an adequate drain for water disposal. The relief valve, often located at the top of the hot water tank, will also need to be piped to an open drain.
Most manufacturers prefer that water heaters are near power sources, so that the wiring is as short as possible. Be sure to properly insulate piping and protect wires so that damage from leaks will not short out your electrical system.