You've bought a new Sleep Number bed and you are excited to finally discover your perfect sleep setting. You just have one last hurdle to clear: setting up the Sleep Number remote. The remote controls the firmness of the mattress, as well as any additional features like a FlexFit adjustable base. If your bed didn't come with a remote, don't panic. Your model is likely controlled via the SleepIQ app.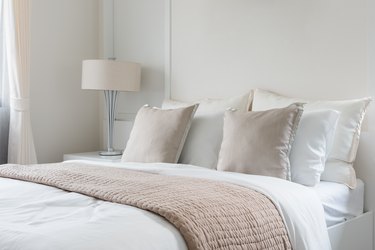 Connect Your Sleep Number Remote
The remote first needs to be connected with your mattress. To prepare for this step, check that your bed is plugged in and that the connections to the pump that controls the bed (the Firmness Control system) are securely in place. If you have a Sleep Number 360 smart bed remote, after inserting two AA batteries, the remote will automatically guide you through the connection process.
For an Innovation Series remote, which is white with blue up and down arrows, first insert a nine-volt battery and then unplug and plug in the bed. Within 60 seconds, press either the "R" button or up arrow. Repeat the same steps to connect a second remote.
If you have a triangular, silver and black remote that says "Advanced Series" on the bottom, first unplug and plug in the bed, and then install the two AA batteries. Push any button to connect the remote.
To connect a Universal remote, which looks identical to the Advanced Series remote but says "Universal" on the bottom, install two AA batteries, unplug and plug in the bed and then press "Enter" to continue. If your bed includes a FlexFit adjustable base, the Universal remote will prompt you to pair with that system as well.
Find Your Sleep Number
You determine your Sleep Number setting by inflating and deflating the mattress to your ideal firmness. To use your remote to find your Sleep Number, lay down on your side of the bed in your usual sleep position and press the Right/Left or Side button to indicate the side of the bed. Next press the "Menu" button to retrieve the main menu, and select "Settings." Once in Settings, choose "Find Your Sleep Number," and the remote will guide you the process to find your ideal setting.
Adjust Your Bed's Height
In addition to a Sleep Number mattress, you may have purchased a FlexFit adjustable base, which allows you to adjust the bed's height. From your remote, press the "Head/Feet" button to choose which portion of the bed you'd like to adjust,. Now use the up and down arrows to raise or lower the mattress to your desired position. You can save a position as a favorite by pressing the "Star" button or holding down the button at the top of the remote. You'll then be able to return to this same setting by choosing from the "Favorite Settings" in the menu.