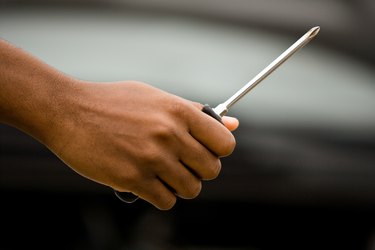 You will need to adjust the dishwasher door latch to fix the door if it will not close. The door latch can come out of alignment from use. Adjusting the latch assembly is a straight forward process on most models of dishwashers. First, remove the securing fasteners for the inner door panel. It is a good idea not to remove the inner door panel completely, just enough that you can access the door latch assembly.
Adjust Strike Plate
Step 1
Turn the dishwasher circuit breaker off inside your home electrical panel. Open and close the door and watch where the strike plate makes contact with the door. The strike plate is usually on the front top center of the dishwasher. If the strike plate is out of alignment, it will hit the inside of the door.
Step 2
Pull the dishwasher out of the counter enough that you can access the strike plate securing Torx screw. You may need to open your dishwasher door and remove the two screws that secure the dishwasher mounting bracket to the bottom of the counter with a Phillips-head screwdriver to pull the dishwasher away from the counter.
Step 3
Loosen the Torx screw that secures the strike plate to the washer tub with a Torx driver. Adjust the strike plate so the plate will engage the door latch. Retighten the Torx screw and push the dishwasher back under the counter. Secure the brackets to the counter if your dishwasher uses retaining brackets.
Adjust Door Latch
Step 1
Open the dishwasher door and remove the Torx screws securing the inner door panel to the outer door panel with a Torx driver. The retaining screws are usually around the side edge and top edge of the dishwasher door.
Step 2
Lift the inner door panel enough that you can loosen the two securing bolts on the door latch with a wrench. You only need to loosen the bolts, not remove them.
Step 3
Carefully raise the dishwasher door to align the door latch with the strike plate. Hold the door latch with your finger tips when you align the latch. Lower the door and tighten the door latch securing bolts.
Step 4
Install the inner door panel retaining screws and tighten all screws with the Torx driver. Close the dishwasher door and turn on the circuit breaker.