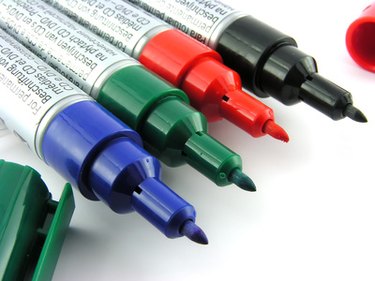 A paint marker creates a noticeable stain when it comes into contact with fabric. It's important to act fast when dealing with a stain like this. The more paint ink you can get off the fabric, the better your chances of removing it completely. Household products can usually be used to get a stain out, but test them on a small area of the fabric first, to make sure they won't bleach the fabric you're working with.
Step 1
Blot a damp paper towel onto the stain to try and soak up as much ink as possible.
Step 2
Soak a cotton ball with rubbing alcohol.
Step 3
Press the cotton ball onto the stain several times.
Step 4
Fill a large container with 2 gallons of warm water.
Step 5
Add a scoop of laundry detergent to the warm water.
Step 6
Put the stained fabric into the water, and let it soak for 30 minutes.
Step 7
Run the fabric through a washing machine with detergent. Let the fabric dry outside.