A stainless steel watch is a popular accessory in the wardrobes of many men and women. The stainless steel is attractive, clean and slightly reflective when cared for properly. However, when body oils and other residue settles onto the watchband, the surface is dulled. To clean and restore a stainless steel watch, learn to make a safe, effective cleaning solution and apply it properly.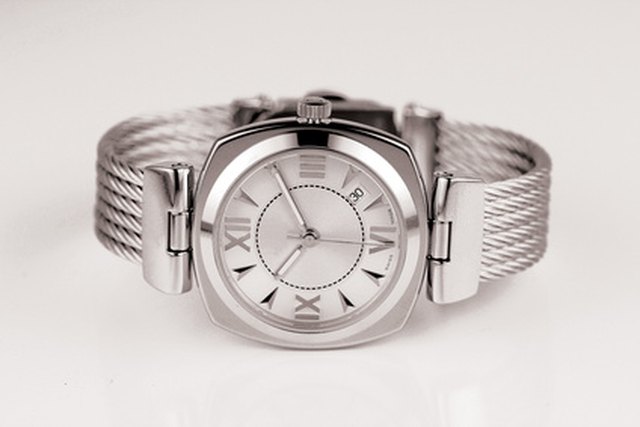 Step 1
Pour 1 tsp. water and 1 tsp. household vinegar into a bowl.
Step 2
Dip a cleaning cloth in the mixture, and rub gently across the wrist band. The vinegar will dissolve residue and body oils on the watch band.
Step 3
Dip a cotton swab into the mixture, and rub on the underside and between links of the watch band.
Step 4
Use a toothpick to get into tiny crevices that the cotton swab cannot reach. Pull out all residue, and wipe the watch once more with a clean cloth.
Step 5
Dip a clean edge of the cleaning cloth in baby oil or olive oil, and rub a thin layer of the oil over the entire watch band.
Step 6
Let the oil sit for five minutes, then buff the watch band clean with a cloth by rubbing in small vigorous circles. This will restore shine to the steel surface.