Things You'll Need
Feather duster or vacuum cleaner with soft brush attachment

Steam cleaner with hose/wand attachment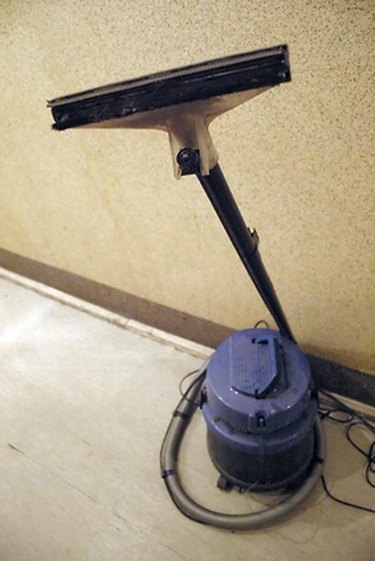 Steam is a safe way to clean and disinfect most surfaces, including concrete, brick, wood, drywall and even fabric. A lot of people forget about their walls during routine cleaning, but walls, just like any other surface in the home, need to be cleaned regularly to remove dust, dirt and germs. Steam cleaning walls is a quick way to do just that without using any chemical products. All you'll need is a steam cleaner and some free time.
Step 1
Remove loose dust and dirt from the wall prior to cleaning by wiping it down with a feather duster or soft brush vacuum hose attachment.
Step 2
Fill the steam cleaner with water according to the manufacturer's instructions.
Step 3
Plug in the steam cleaner and turn it on. Wait the recommended amount of time for the machine to heat up. Use the proper attachment hose, wand and/or pads for cleaning walls. Refer to your owner's manual for these instructions.
Step 4
Work in sections while steam cleaning the walls. This will ensure that no part of the wall is missed. Begin at the top of the wall and work your way down.
Step 5
Run the steam cleaner slowly down the wall in a vertical motion. If there is a tough spot on the wall, run the steam cleaner over that spot again. Avoid letting the steam cleaner sit on one spot for more than about 10 seconds.
Step 6
Continue this process all along the entire wall, working vertically from top to bottom. Overlap your cleaning strokes to ensure that every part of the wall is getting cleaned.
Step 7
Allow the wall to air-dry.
---
Kimbry Parker has been writing since 1998 and has published content on various websites. Parker has experience writing on a variety of topics such as health, parenting, home improvement and decorating. She is a graduate of Purdue University with a Bachelor of Arts in organizational communication.