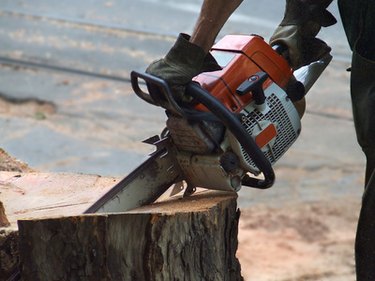 Stihl has always produced some of the highest-quality saws money can buy. They are rugged and built to last for years. Stihl also manufactures a saw for almost every imaginable use. The 026 Pro and the 028 AV Super are very similar in design and build. When considering which is right, you should always keep in mind your intended use for the chainsaw, and your own strength. With either of these saws, you will get a decent amount of power and reliability, but the 026 is lighter and has less power than the 028.
Engine Displacement
The Stihl 026 Pro has an engine displacement of 48.6 cubic centimeters, while the 028 AV Super has a displacement of 51.5 cubic centimeters. The engine displacement represents the amount of air displaced in the two cylinders. This is the basic framework for the level of power each saw has.
Bar Size
Both of these saws are equal when it comes to bar size. They offer 16-, 18- and 20-inch bar sizes, which the saw can use without reducing power. They both can use Stihl's reduced-kickback bar.
Weight
Weight is an important factor that sets these saws apart. The 026 weighs about 4.9 kilograms (10.8 pounds) with the bar on. The 028 weighs about 5.9 kilograms (13.2 pounds). So the 026 is definitely much lighter but has less power than the 028, which has a slightly bigger engine.
Oil and Fuel Systems
The 028 AV Super has a slightly larger fuel capacity, with .5 liters as opposed to a .46-liter tank on the 026 Pro. The carburetors on both of these saws are the same, with an integral fuel pump. They both also share the same Stihl oil pump, but the 028's tank capacity is .3 liters as opposed to a .29-liter tank on the 026.
Engine Speed
The extra power on the 028 gives it a maximum speed of 13,000 rpm. The smaller, lighter 026 only puts out about 12,000 rpm.
Ignition Systems
The 026 uses an electronic, breakerless magneto ignition, but the 028 uses a breakerless, transistor magneto ignition. These ignition systems are almost identical and are some of the best ignition systems on the market.
Choose Power or Lightness
These Stihl saws are both mid-level chainsawsl, just below the professional range. They both offer a decent amount of power in their weight classes and are more similar than different. Both saws will handle medium-sized cutting jobs and trees, and are priced about the same new and used. Because these saws are so similar, it really comes down to a little extra power or a lighter saw.