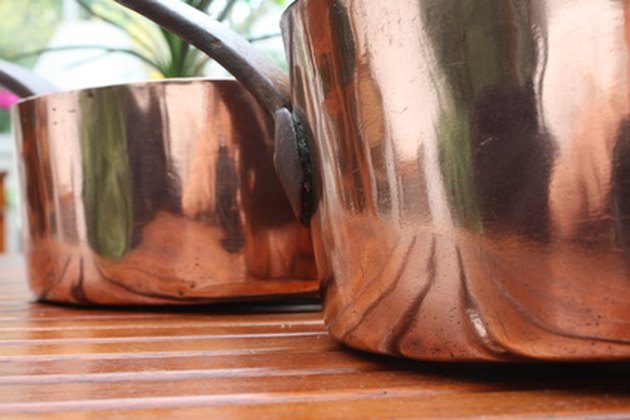 Using Brasso metal polish is an effective way to clean the stainless steel, chrome, brass, copper, pewter, bronze and aluminum items in your home. The polish is formulated so it will not scratch or mar your fine metals. It is easy to use the polish to restore the luster and shine on the treasured pieces in your home.
Step 1
Shake the polish can well.
Step 2
Soak a clean, dry cloth with the Brasso metal polish.
Step 3
Apply the polish to the metal item.
Step 4
Restore the shine and luster by rubbing a dry cloth over the metal item.
Step 5
Rub gently in a circular motion if there are heavily tarnished areas. This will loosen the discolorations on the item.
Warning
Avoid using Brasso on silver pieces, antiqued, lacquered or painted finishes.
Prolonged exposure of the skin may cause irritation, as suggested by Reckitt Benckiser's safety data sheet. If irritations occur, rinse your skin with cool water and then wash the area with soap and water. See a physician if the irritation gets worse or does not improve quickly.
If the product accidentally gets into your eyes, flush them immediately with cool water. If further irritation persists, seek a doctor's advice.
---
Chelsea Fitzgerald covers topics related to family, health, green living and travel. Before her writing career, she worked in the medical field for 21 years. Fitzgerald studied education at the University of Arkansas and University of Memphis.