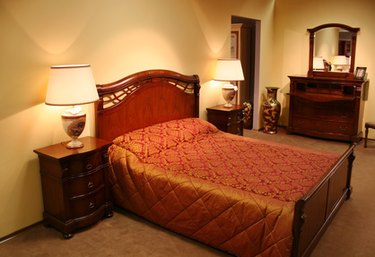 There is no better alternative to discarding a piece old furniture than to find a new function or purpose for it. When downsizing from a queen to a full-size bed--smaller space or perhaps it was a gift or an heirloom--make a few simple adjustments to make your queen-size bed frame fit your full-size bed.
Adjust the Metal Mattress Frame
Some beds have two metal mattress support bars on both sides that connect to the headboard and foot board. Other beds have a four-sided metal mattress support frame that adjusts to different widths to support a twin-, full- or queen-size bed.
For the bed with a wooden headboard and foot board and two metal mattress support bars, check to see if the support bars are adjustable and can adjust from 80 inches for a queen-size bed to the 75 inches for a full-size bed. If they are not adjustable, purchase two new full-size mattress support bars from a furniture store.
Unscrew the bolts connecting the support bars to the head and foot boards and then mark the position of the new holes for a full-sized bed. Evenly space the marks for the bolts from the centers of both the headboard and the footboard. Drill new holes of the same size and aligned with the old ones to connect the hardware through these new holes.
Place the box spring onto the metal support bars and then place the mattress on top. The 6 inch difference--or 3 inches on each side--between the width of a full- and a queen-size bed may not be very noticeable once the bed is dressed up with bedding and throw pillows.
The four-sided metal queen-size bed frame that adjusts to variable widths is very simple to fit to a full-size bed. After removing the queen-size mattress and box spring, push the frame inward from the foot of the mattress support to adjust its length to 75 inches. Push the frame inward on one of its sides to adjust it from 60 inches to 54 inches. Lock into place if the frame has a locking mechanism and then place the mattress on top.
Adjusting a Platform Bed
If you have a queen-size platform bed whose top extends out more than the base of the frame, there may be enough inches along the two sides to cut the excess down for a full size bed. Mark 3 inches in from the side edge at the head, the middle and the foot of the bed, along each side of the bed. Use a long straight edge to draw a line to connect these marks. Use a circular saw to cut away 3 inches on both sides of a platform bed frame. Reinforce the frame's structure with wood studs and then wood glue and nail a wood trim to conceal the cut edges.