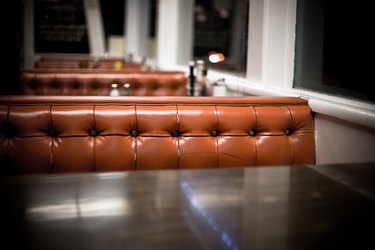 Most kitchen and dining room setups involve a table with chairs — a comfortable, fairly popular option. However, sometimes the design of a home lends itself to something cozier and more unique, like a built-in diner booth or kitchen nook. Adding a booth can open up space in the layout and help anchor the table as a place to eat. In some settings, replacing a table with a booth allows you to double the number of people that can sit together, which is great for families with kids or frequent visitors.
You can buy prefabricated banquette and bench seating, sometimes even custom-made to fit a specific place. However, if you're handy and understand design, you can also build your own booth or nook for your enjoyment.
The first step is to measure out the space and design your booth so that you know what supplies you will need. In general, you'll need many 2 x 4s to build the seating support, plywood for the bench and any trim you intend to add to the design — plus cushions or pillows for seating. As Making Manzanita explains, you may need as many as 20 2 x 4s, so be sure you have a large vehicle for transporting your raw materials.
As for hardware, expect to need a table saw or miter saw, a drill, a hammer, clamps and a good collection of nails, screws, anchors and wood shims. You'll also want to have a level and a framing square available to keep your installation on track. Getting the design together can be one of the most enjoyable parts of the project.
Additional Considerations and Steps
There are a lot of things to consider when designing your booth. Do you want additional storage space inside the bench? You can add hinges to the seating or build a pull-out drawer on one side. Do you want to upholster the plywood or will you use cushions and pillows? Consider stains, paints, trims and other accents as well.
Once you have your design and materials, there are some basic steps required to build a booth in your kitchen or dining space. You can adjust as needed based on your custom design. Note that Black + Decker explains benches are most comfortable if they are at least 16 to 19 inches deep.
Building the Dining Booth
First, you'll need to remove the trim and baseboards from the floor and find and mark the studs in the wall. Then, put together the framing, which is the support part of the bench, and anchor it to a support beam attached at the studs. Depending on the design, additional supports may be needed, that might be attached to the floor or nonstudded walls. Be sure you have adequate support for the seating of the booth.
Then, you will need to attach the plywood for the bench to the framework. Some individuals add padding and fabric to the plywood for the bench beforehand and then attach it to the frame. If you're planning on staining, you'll need to cut the plywood to make sure it will fit the design, and then stain or paint before installing.
Next, attach the plywood for the back of the bench. The backs of these types of dining booths are often installed at an angle for more comfortable seating. Again, consider the treatment for the plywood.
Once the structure has been assembled, add trim or paneling as desired. Let the structure settle for a day or two to make sure everything is even and measurements are accurate. Once the bench is in place, pull in your kitchen table and enjoy the comfort of a diner booth tucked away in its private nook.