Things You'll Need
Screwdriver

Rubber gloves

Safety glasses

Face mask

Drop cloth

Paint or lacquer thinner

Sandpaper (fine grit)

Painter's tape

Whitewash stain

Paint stick

Rags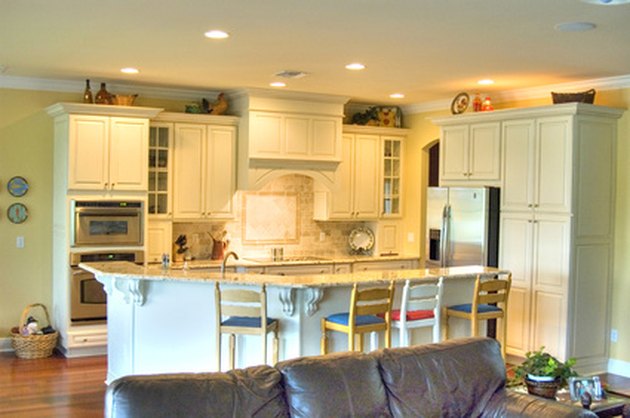 Staining your kitchen cabinets is the best option if you want to change the look of the cabinets without replacing them. When staining the cabinets white, it is important to use the correct stains and staining techniques. Using a water-based whitewashing stain is the best option for your kitchen cabinets because the application and cleanup are easy, and there are no dangerous fumes to inhale.
Step 1
Remove the kitchen cabinet doors from the cabinets, and remove the hardware. Use the screwdriver to loosen all hardware pieces so you can remove them easily. Put on your gloves, goggles and mask before proceeding to the next step.
Step 2
Lay your drop cloths on the ground in the area where you will be staining, and across the top of your hard surface. It is best to use a table that is waist-high so you can easily see what you are doing.
Step 3
Use the paint or lacquer thinner to remove any coloring or coating that is currently on your cabinets. Staining them white requires any color currently on the cabinets to be removed.
Step 4
Use the fine grit sandpaper to give your cabinets slight texture to help the stain adhere. Do not go overboard sandpapering the cabinets—you don't want them feeling rough to the touch.
Step 5
Stir your whitewash stain with the paint stick because the stain separates, and the sediment in the stain giving it its color will settle.
Step 6
Apply the whitewash stain. Dip the rag into the stain and gently apply it to the cabinets in a back-and-forth motion. Do not go over an area for the second time until the entire cabinet door is coated with one coat. Apply a second coat once the first coat dries. Do the same with the rest of your cabinets.
---
Joshua Bailey resides in Pennsylvania and has been a professional writer since 2007. His writing focuses on topics in film, entertainment, music and religion. Bailey has been published on eHow and has written numerous articles for three universities. He holds a Bachelor of Arts in business and creative writing from Moravian College.