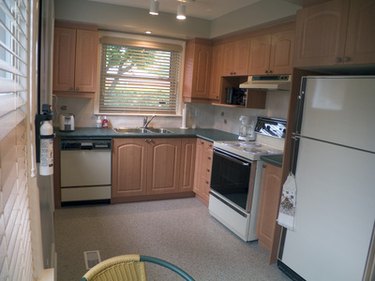 If you've had new Kraftmaid cabinets installed, you know how quickly they rejuvenate your kitchen and how they will be a fixture for years to come. But what happens when you put too much in a kitchen drawer, and items spill over the back of the drawer, preventing it from closing properly? You'll have to figure out how to remove your Kraftmaid drawer. Fortunately, the task takes only a few moments.
Step 1
Open the drawer by pulling it toward you. Bend down and, if possible, inspect the drawer's underside to familiarize you with the hardware and tracking that hold the drawer in place.
Step 2
Look for the orange clips on both tracks beneath the backside of the drawer face. Extend the drawer outward fully. Push both orange clips inward to release the drawer from its tracking.
Step 3
Pull the drawer toward you until it is completely off of its tracking. Push the tracking gently back inside the drawer cavity so no one accidentally bumps into it or bends it.