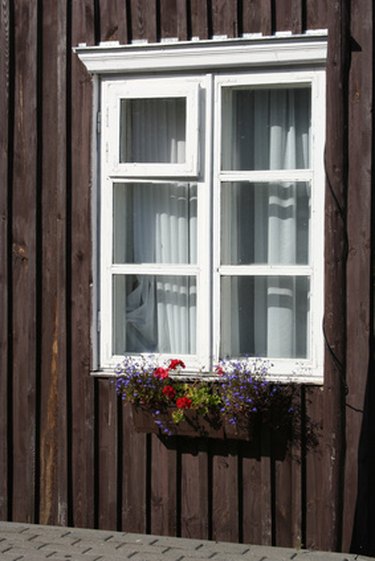 Both Pella and Milgard window companies make viable choices, and your actual decision might come down to personal preference for particular products best-suited to your needs in replacement windows. For comparison purposes, you should consider how each company ranks in relation to the other in terms of industry position, company reputation, product quality, product innovation and product selection.
Position
Both Pella and Milgard window companies enjoy a solid position in the replacement window marketplace. Pella is one of the nation's major manufacturers, competing competently with such recognized names as Marvin and Anderson. Milgard is the largest window manufacturer in the western United States and has forged a position of industry leader through its ability to foresee customer's wishes, according to Window-max.com.
Reputation
Both companies enjoy a solid reputation. J.D. Power and Associates gave Pella its customer satisfaction award for two years in a row and Pella also won EnergyStar's partner of the year honors in 2008, according to Calfinder.com. Calfinder.com, however, does note that Pella did receive somewhat mixed consumer reviews although customer reviews have predominantly been strong. Milgard also achieves recognition for both exceptional services and product quality, according to Window-max.com.
Quality
Both Pella and Milgard are known for product quality. The Calfinder.com review notes that the attractiveness of Pella windows will enhance the value of the purchaser's home although it does not cite any specific justification for that statement. Milgard also has garnered industry recognition for product quality.
Innovation
In terms of innovation, data suggests that Milgard has the edge. The company has had involvement with significant innovation in terms of fiberglass window technologies. Although Pella also offers fiberglass window products, the Pella company's involvement with fiberglass windows seems at the level of simply one product among several.
Selection
With selection, available data indicates that Milgard has the edge, with window products available in materials such as wood, vinyl and fiberglass as well as in many styles and colors. Of particular note, Milgard offers five standard fiberglass window finishes as well as the option of custom-colored fiberglass windows. Another option of particular note Milgard offers is a window that combines an external fiberglass frame for durability with an interior wood frame to add beauty to the interior décor.
Special Consideration
One final fact you may need to take into account in a decision between Pella and Milgard is your location. While Pella is a nationwide supplier, Milgard (as of January 2010) is known as a western U.S. manufacturer. Available reviews do not indicate to what extent Milgard has extended its distribution of products into the eastern U.S. market.