A cultured marble vanity top is made from resin, marble dust, pigment and catalyst that are molded into shape to create a smooth and shiny finished surface with the appearance of marble. Cultured marble is ideal for remodeling or upgrading a bathroom because it comes in a variety of colors, surfaces and decorative shapes. Cutting a cultured marble vanity top can present a challenge, because it is a very hard substance that splinters, chips, and scratches easily. To successfully cut a cultured marble vanity top you need a sharp masonry blade and a scratch-free work surface.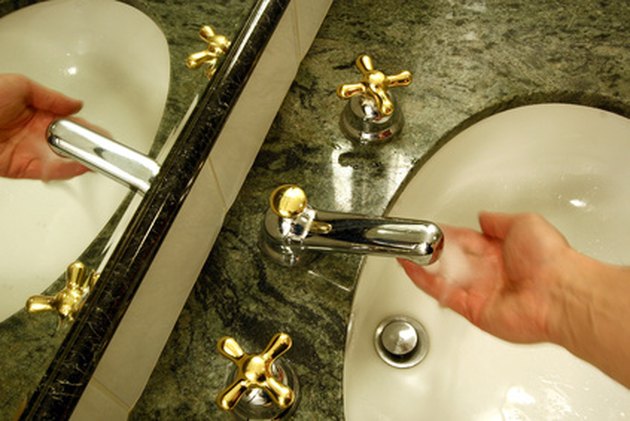 Step 1
Use a yard stick, and accurately measure the cultured marble vanity top for cutting. Mark with pencil on the underside of the marble vanity top to indicate where you want to cut it.
Step 2
Use a blanket or towels to cover the cultured marble vanity top or work bench to protect the finished surface from scratches during cutting.
Step 3
Turn the vanity top face down and position the pencil marks for cutting where you have the easiest access. To avoid having the vanity top slip during cutting, resulting in a bad cut, secure the top tightly to the work bench using vice grips or clamps. Double check that the vanity is secure and won't slip.
Step 4
Cut along the pencil lines using a rotary saw with a sharp masonry blade. Don't use force to push the saw, to avoid chipping and splintering the cultured marble surface. Gently guide the saw along the pencil cut lines. Create a clean cut at the end of the cut by moving more slowly the closer you come to the edge of the vanity top.
Step 5
Smooth out the edges of the cut with sandpaper. Do not get the sandpaper near the finished surface of the vanity top, to avoid scratching it. Refer to the manufacturer's directions for the best grit of sandpaper to use.