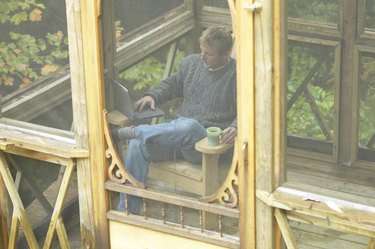 Pella has been making replacement windows and doors for homes since 1925. Pella windows and doors not only spruce up your home, they can save you a lot of money on heating and cooling bills due to their high energy efficiency ratings. A Pella storm door comes with a glass panel installed, but a screen can be purchased as an option. The glass panel needs to be removed to install the screen. You may also want to remove your existing screen for replacement if it has become damaged.
Step 1
Make sure the door is closed and latched so that it will not come open while you are working. Work from the inside of the door.
Step 2
Remove the vertical plastic strips at the edge of the screen or glass panel by prying them off with your fingers. Use a plastic putty knife to pry the strips off if necessary.
Step 3
Pry the bottom horizontal strip off of the screen or glass panel.
Step 4
Stop the screen or glass panel from falling out by holding it with one hand and pry the remaining horizontal strip off at the top of the door with your other hand.
Step 5
Carefully lift the screen or glass panel from the opening and set it aside.
Step 6
Lift your replacement screen into position on the door and hold it with your hand to keep it from falling out of the opening.
Step 7
Press the top horizontal strip into place with your hand. Push in along the length of the strip to make sure it is seated into place. Let go of the door as it will stay in place now. Repeat this step for the bottom horizontal strip and then the two vertical strips, in that order.