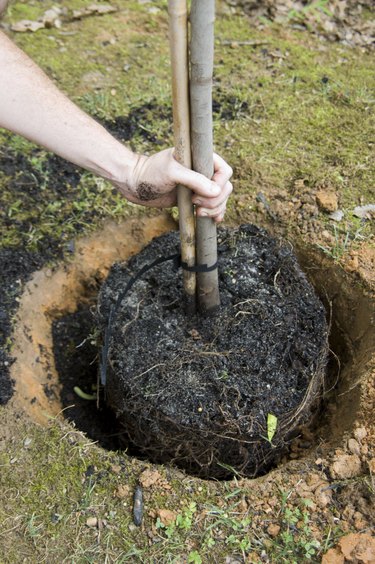 Tree guards are an affordable option for protecting the trunks of young trees from deer, rabbits, voles and other animals. They are typically set about 2 inches below the soil's surface, stand between 2 to 5 feet high and are loose enough to allow for growth. Higher tree guards help protect the trunks from deer eating the bark and rubbing their antlers against it. Tree guards can be left on trees year-round and you can construct them from a number of materials.
Wire Tree Guards
You can make sturdy tree guards in any size with a pair of wire cutters and some chicken wire, metal hardware cloth or metal fencing material. Cut the wire fencing material to whatever length you need to surround the tree trunk with extra room for up to four years' worth of growth. Make the guard between 2 and 5 feet high. Wrap it around the tree's trunk in a cylinder shape and bury it about 2 inches in the soil to hold it in place and help keep out rodents. Connect the edges of the fencing material with wire and keep it closed. The University of New Hampshire Cooperative Extension says to add gravel to the base of the guard. You can make more spacious tree guards by using a sturdy wire fencing material and bending it to a large square or cylinder shape around the tree.
Corrugated Plastic Tree Guards
Hardware stores carry affordable corrugated plastic drain pipes that you can cut to height and split down the side to wrap around a tree trunk. When buying a pipe, purchase one large enough to accommodate a few years' worth of growth and to allow airflow. Once the pipe is cut to length and split down the side, carefully pry it open at the split and slip it around the tree trunk. Bury the plastic a couple of inches deep in the soil to hold it in place.
Recycled Plastic Tree Guards
You can make a free, recycled tree guard using milk jugs or 2-liter bottles that have been split down the side with the tops and bottoms cut off. Make a small hole in the side of each bottle or jug before placing them over the tree. Bury the bottom bottle or jug in a couple inches of soil and put each one on the outside of the bottle below it. Next, weave a string through the holes in the sides of the bottles. Set a wooden stake near the tree and tie the string to it to hold the tree guard in place.
Fancier Wooden Tree Guards
For a showier tree guard, build a fence or bench around a tree using two-by-fours. Construct the fence or inner area of the bench to be large enough to allow for several years of growth. You can construct around the trunk of your tree in a triangle, square or pentagon shape. Sand and seal the wood to help the tree guard last for several years. To make the fence or bench more eye-catching, apply stain or paint before sealing it.
---
Serena Styles is a Colorado-based writer who specializes in health, fitness and food. Speaking three languages and working on a fourth, Styles is pursuing a Bachelor's in Linguistics and preparing to travel the world. When Styles isn't writing, she can be found hiking, cooking or working as a certified nutritionist.