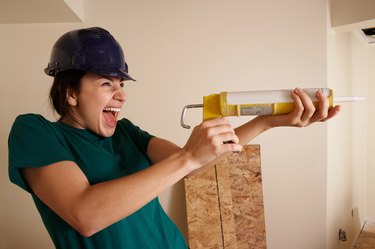 Caulk is very easy to smooth when it's moist and wet but you can have problems once it dries and becomes hard. There are some simple steps, however, to fix caulk that has dried before you have finished smoothing. Just use sandpaper or a utility knife to fix jagged and uneven caulk to create an attractive surface. These steps can be performed by anyone and do not require any previous skill.
Cut and Clean
Step 1
Use a utility knife to remove any elevated areas of the dried caulk. You need to be careful when using the knife so you don't cut yourself or cut into the wall. Be sure to use a new blade for easy cutting and cleaning. A sharp blade is essential for a clean cut.
Step 2
Use a new piece of coarse sandpaper for the most effective smoothing effect. Coarse sandpaper will take larger chunks out of the bumpy dried caulk. Use fine sandpaper later in the process to smooth the final product. Fold the sandpaper in half so it fits comfortably in your hand.
Step 3
Place the sandpaper on the unfinished caulk and rub vigorously along the caulk line. Use caution when scrubbing so that you don't scratch nearby paint or wallpaper. It may help to use a smaller piece of sandpaper to prevent damaging nearby items.
Step 4
Finish by using a new piece of extra fine sandpaper and lightly going over the caulk to make it even and uniform. Use an up and down motion to properly smooth the caulk and make level with the wall or trim.
Prevent it From Drying Uneven
Step 1
Work to prevent caulk from drying uneven as much as possible. After applying the caulk, run your index finger along the edge of the wall and the caulk to create a smooth surface.
Step 2
Use a damp cloth to smooth the remaining caulk. The wet cloth also will remove any caulk that has attached to the wall. Rinse out the damp cloth with warm water and reuse as often as needed.
Step 3
Run a humidifier in the room because caulk with not dry as fast in humid conditions, giving you more time to make sure it is as smooth as possible before drying. Very dry conditions can make the caulk chunky.