You can stain a deck in a number of ways. You can apply deck stain by hand with paintbrushes or paint rollers, but these methods are difficult and time-consuming. You can apply deck stain with an airless paint sprayer, but it usually has too much power to spray deck stain effectively and efficiently. A garden pump sprayer or a deck stain pump sprayer is the perfect tool to use to apply deck stain. You can finish a deck that would take days to stain by hand in a matter of a few hours with a pump sprayer.
Step 1
Open a can of deck stain and test the stain on a scrap piece of decking. Be sure that the color is the color you want before applying the stain to the whole deck. Allow time for the sample to dry, so the deck stain finish color will be accurate. Continue when you have found a deck stain color that you like.
Step 2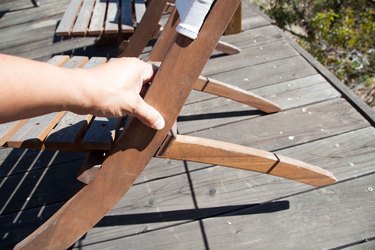 Remove any furniture from the deck and use a garden hose to spray the deck off to remove dirt and grime. Use a floor squeegee to remove as much water from the deck surface as possible. Allow the deck to dry thoroughly (24 to 48 hours).
Step 3
Apply masking paper to the house around the deck area to protect the home from over-spray. Cover grass, plants and vegetation with sheets of plastic to protect them as well.
Step 4
Fill a pump sprayer that can spray deck stain with the deck stain of your choice. Screw the lid onto the sprayer reservoir and pressurize the pump sprayer, according to the manufacturer's specifications. You should apply deck stain in the morning or evening when the sun is not beating directly down on the deck.
Step 5
Spray the deck with the stain. Apply a liberal coat. If pools form, even the pooled areas out with a paint roller. Avoid thinning the stain coat in the pooled areas. Allow the stain to dry, according to the instructions on the stain can label.